Subject: Why your team sucks....Atlanta Falcons
From: Rodney Elmore
To: Drew Magary

Just read your article. I printed it and wiped my ass with it.
You should get it in the mail shortly.

Get a real job fucker!
Subject: Delete from
From: Cheryle "Gramma" Russell
To: The Staff

This fB account did not request do not like get out of my face
Now

Sent from my iPhone
Subject: The commenters are The Family Circus' Jeffy
From: Brent Silha
To: The Staff

Dear Deadspin:

I think it's time to get rid of the comment section. It used to be tolerable when the commenters had to be approved and the comment ninjas were keeping things in check. Now all the commenters think that they're the love children of Dane Cook and Jim Rome. We don't need that. The comment section has become The Family Circus of Deadspin and the commenters are Jeffy. I look forward to seeing this in the Dead Letters section with the Jeffys making hilarious comments and then +1-ing each other.
Subject: Why your team sucks
From: Nathan Hinton
To: Drew Magary

After reading some of your "why your team sucks articles" I will have to say I got a chuckle out of them but after reading your why the colts suck I have to say. You might want to change it to "I am full of bile hate and anger" I am no colts fan but you are WAY OUT of line and I hope a pissed of fan pays you a visit.
Subject: article on Colts
From: S Magee
To: Drew Magary

It is one thing to criticize a team like the Colts, but to use such fowl language and rip individuals with your gross misconceptions is sad. I hope you don't call yourself a journalist. The internet does not give you the right to talk trash and tear down people just because you don't like them. Having been a Colt season ticket holder since they arrived in Indy in 84, I can assure you our franchise is rock solid. Obviously, you have anger management issues that need to be addressed. Seek help and along the way go back to school and learn how to write.

S Magee
Subject: your article on the SAT
http://deadspin.com/5893189/what-happens-when-a-35+year+old-man-retakes-the-sat
From: Ivy Harpolem McMullin
To: Drew Magary

I'm sorry to see a necessity to express yourself in such language. I'm sure that you could do so without resorting to every bodily function and assure the rest of us that your current use of such language IS NOT a "barometer of your abilities." Frustration is no excuse for crude and vulgar language. Otherwise, I suspect that you are a really intelligent and nice person!
G/O Media may get a commission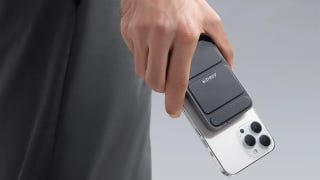 15% off
15% off Anker Top Ten Products
Take charge
Treat yourself to a portable power bank, a magnetic wireless battery for iPhones, or even a solar generator. There is a reason these are in the top ten. For instance, the Anker 747 Power Bank is a 4-in-1 charger utilizing USB-A and USB-C to be capable of charging up to four devices at once. Great to take with you when traveling and in need of keeping your phone, laptop, and even Nintendo Switch powered on.
Subject: Chipper Jones can eat a dick
http://deadspin.com/5933390/chipper-jones-complained-on-twitter-about-the-tv-in-his-hotel-room-and-someone-from-the-front-desk-came-up-and-fixed-it
From: Joe [last name redacted]
To: Jack Dickey

I like chipper. I do. (I don't) However, you see, I run a large, chain affiliated hotel. It is people, not just celebrities, but PEOPLE like junior here that make hotelies drink to excess. Instead of calling someone, he went to twitter to bitch about a fixable problem that someone just needs to know about. It literally was more effort for him to type his bitching than to hit zero on his phone and politely tell the young lady making 8.50 an hour that his TV and air conditioning weren't working properly, and oh hey by the way Ill be gone from the room for most of the day and night (I'm a baseball player, you see.), could you please make sure it's fixed by the time I get back? FUCK chipper, eat a dick.

However, me ranting isn't the purpose of the email. It's to say that large chains have a dedicated staff of people watching all social media outlets for mentions of their brand and/or specific locations. They then immediately notify the hotel to contact the guest, and then they always think its magic "Whoa I just put it on the internet, AMAZING!". Fucking mouthbreathers. I've been told they don't have to hashtag it, but the two instances it happened at my hotel the brand was hash tagged and they inferred the location from a later part of the tweet. Just thought I'd tell you...chipper isn't that cool that someone called the hotel to phone in his complaint for him.

please edit my last name form my email if used...i know that's pretty dumb to think you'd use it, but just in case in ends up in dead letters, I do have corporate overlords who wouldn't be pleased with the language.
Subject: Ryan Mathews Tip
From: Adam Huntington
To: The Staff

Huge tip! This fuckin' douche has the durability of an IKEA product! Do you realize Larry English and Ryan Mathews are the same person? They are never on the field at the same time. This is no surprise to anyone who's had the intestinal fortitude to watch this dysfunctional circus during the Norvelle Era.

At least we have great weather,
Adam in SD

Sent from my iPad
Subject: Why Your Team Sucks 2012: Jacksonville Jaguars
http://deadspin.com/5931216/why-your-team-sucks-2012-jacksonville-jaguars
From: David Lloyd
To: Drew Magary

Normally I laugh it off when some nobody writer (Insert Drew Magary here) writes laughable stuff about the Jags, but your piece was so atrocious that I just had to take a few minutes out of my day to send you this love note. Your lazy attempt at journalism and humor is laughable in and of itself. One of the great running jokes of this preseason is just how awful Blaine Gabbert has looked in training camp? If you actually followed the team instead of being the lazy and incompetent writer that you apparently are, you would know that Gabbert has been the most improved player on the offense.

You would also know that the Jags defense will be one of the best in the league again this year. If you didn't know... and I'm sure you don't because you rehash lame Jags jokes like the rest of the lazy media, you would know that the Jags D ranked 6th overall last year and that was with several starters on IR. This year they will be even better. So when a 2nd year quarterback completes one pass in 12 plays against one of the top rated defenses in the NFL, it might just be because the defense is pretty fucking good. Were you even aware that those weren't even all passes, they were just the number of plays? So he didn't go 1-12 you dumb fuck. 7 of those plays were runs.

I could sit here and rip apart the rest of your article, but quite frankly I feel dumber for even reading it and even dumber for sending you this fucking email.
Subject: Jags
From: Adam Edgecombe
To: Drew Magary

Drew: Dude...come on. Maybe its because i live in Jacksonville that i actually quibble with your appraisal, as where, say, the KC one was, in my mind, brilliant. But so much of what you wrote was wrong:

1. Gabbert didnt go 1 for 12— he went 1 for 5, and tucked it and ran on the other 7, all for positive, decent yardage, i believe. and, no one is coming to practices because they're at 9:00 AM, most of us have to work.

2. NO ONE thinks the Jags are moving to LA. No one. Not only are we NOT a dwindling fan base (believe season ticket sales have been on uptick for the past 2, if not 3, seasons, but it would be enormously financially prohibitive under the contract Khan signed to move to LA. I mean, i barely give a shit about the NFL and even i know that San Diego or St. Louis is much, much more likely to go to LA. Hell, the Bucs have way worse fan support than we do.

3. Lee Evans is not going to be the 3rd receiver. He's 4th receiver, if that.

4. Everyone here is fired up about Mularkey. We all like the pick, but maybe thats because Del Rio was such a suck-ass douche.

I mean, look, i am not trying to get all homer fan-boy on you, but, fuck, do a least a little bit of research man, you could have found plenty of legitimate criticism instead of this BS.
Subject: info
From: Eduard Nuriahmetov
To: The Staff, and 396 other email addresses

Hello My name is Eduard. I am a great admirer and fan of the sport and
in particular to you. I am all the time for you to worry and get sick,
and I want you to always delighted us with his victories and
successes. You are very courageous, strong-willed and determined
people. You have characters of all the envy. So I hope you nice and
kind people send me promotional materials, gifts, souvenirs and
information packets. In advance thank you very much, good luck to you
and may God be with you. All you good.
my address
Eduard Nuriahmetov
[redacted]
Krasnoyarsk
Russia
660061
Dead Tweets