Subject: Papa John's
From: "chgovgsgrl38"

To: Barry Petchesky

Barry, I read the comments made in your article and yours as well. While I am not a racist, I can only see where U have presented a very limited portion of Papa John's comments in regards to his own comments. He should b allowed to state his reasoning, behind what he stated. That also should b published in fairness. It's true,

there have been many others who have made racist comments in past years, but was it absolutely necessary to remove his name from the stadium and half a dozen other things he has contributed to, and the company he has built from its beginning? I don't believe he should b made an example of by these statements. Red Foxx(RIP.) was a negro comedian and a darn good one. Yet he made jokes and comments about white folks, but no one degraded him or blacklisted him from the casinos here in Las Vegas, where I live!!
I am quite sure that people r upset w Papa John's remarks, but I do feel his punishment was dealt w too severely.

For the record: Many of my friends are african americans. They r still treated as people,friends and w respect. Doesn't Papa John deserve to have his explanation heard?

Sent from Yahoo Mail on Android
Subject: (no subject)
From: Bob Wilson

To: Barry Petchesky

I'm 58 years old I love Papa John's Pizzas I love Papa John and there's a lot more out here that support and agree with everything he said you can't break discrimination by discriminating back everybody has a right to their own opinion even if you don't like it and I happen to like Papa John's opinion and off alot go Papa John go Papa John Papa John for president and there's a lot more people out here that feel exactly like I do cuz I've been talking to him and I told corporate headquarters yesterday and talked to him and told him how I felt gave him my name and address and I'm taking a stand here to we have a right to free speech even if it's a minority opinion and other people don't like our opinion we still have a right in a free country to our own opinions you people are doing the same thing to us that was done to the slaves after slavery ended discrimination because we don't agree with your opinion I think what Papa John was saying is I don't like people telling me what I can believe and what I can disagree with and not believe in that's what's really it is at issue here it's not whether somebody says a six letter word or not or says something stupid like the n-word which is incredibly stupid I am incredibly offended when someone says the politically correct thing the n-word that offends me saying the n-word not saying n***** saying the n word offends me everybody translate sit in their mind when they say the n-word everybody translates it in their mind to NIGGER and by the way one of my closest dearest oldest friends is black my best friend when I was in the Marine Corps was black so before you paint me as some type of races because I don't go or one with political correct b******* think again we need to wake up we're headed to another civil war they're dividing us and conquering us and why are they wanting to do that who is going to gain if America comes apart at the seams over this kind of b******* we need to think about that for a minute we're all Americans we need to stop shooting each other killing each other talking bad about one another and we need to all be Americans and stop this hyphenated s*** you know how stupid it would sound if I said I was a British Irish Scott American all the time I'm just an American and they need to be too and all this stuff will come to an end it's not about what color their skin is it's about their culture is different they won't join America my family came here and we dropped our britishness and we became Americans and it's time the blacks dropped their African s*** and become Americans and yes I had these discussions with my black friends and some of them once they really listened to me or an agreement with me when they realize that I'm really talking about his solution instead of this constant fight that we have amongst fellow Americans wake up America wake up
Subject: Papa John

From: GregandValette Smith

To: Barry Petchesky

Clearly blown out of proportion. I'll support John.

Sent from my iPhone
Subject: Papa John.
From: Eric DeMoulin

To: Barry Petchesky

John Schnatter of Papa John's did nothing wrong, doesn't have anything to apologize for and should not be losing the things he is losing for what he did. In my opinion, using the "word" nigger is not a racial slur, unless it is being used in a a racist manner. I don't know who in the hell came up with the stupid ass, ignorant idea that when someone uses a particular word when explaining or describing something, that that is being a racist. Our country is being reduced to complete and unadaltarated ignorace.

Slavery has been over for a very long time, there is no one alive today who was a slave, there are no slave owners alive today, during the days of slavery the majority of U.S. states were against slavery, the majority of our country and white people did not agree with or condone slavery, millions of white Americans fought to abolish slavery and to free slaves, and Abraham Lincoln, a white man, freed the slaves through the emancipation proclamation. Where's the appreciation to those millions of whites who helped the slaves and the blacks back then and since then, to present time ? If black people don't like the word nigger then those that use the word nigger or nigga need to stop using it and stop perpetuating its use. Everyone constantly attacking white people for being racist when they are not being racist needs to stop. Black people have it very good in our country and much of the white population in our country are getting fed up with all of the bitching and whining about people making racist remarks or otherwise behaving in a racist manner when they are not doing so. There are many black Americans who hate white people and we're not stupid, we know that many blacks continue to intentionally perpetuate racism, even where there is none, for the purpose of continuing to further their so called "civil rights". I have heard many black people over the years call white people honkey, cracker, redneck, white bread and many other racist names. Black people and all other races and groups need to be held accountable for the racist and otherwise improper things that they say and do.

Papa John needs to have everything reinstated and he needs to have his good name and reputation back. He was actually explaining how he DOES NOT condone racism. Are you people so friggin stupid and ignorant that you don't comprehend the obvious. What a bunch of friggin idiots !

Now, I have to go order a Papa John's pizza !

#Truth#Fact
Subject: (no subject)
From: Thomas Panzarella

To: Barry Petchesky

You people are the snowflakes, that we make light of."GET A LIFE".
Subject: I Was Papa The Pizza Man

From: Don R. Mueller, Ph.D.

To: Barry Petchesky

Greetings:

I wrote/sing a song called: I Was Papa The Pizza Man. Even Papa deserves a 2nd, okay 3rd chance.

Don
Subject: The papa johns bullshit
From: John M.

To: Chris Thompson

If he were black and he said honkey or cracker during the interview, he would get a pass and would likely still have his office and it wouldn't be a big deal. Which is really fucked up. Why is it that black rappers, comedians, actors, athletes, and black people in general are allowed to call white people honkey or cracker or diss white people in general? It makes it okay because they're black? Why can't white people say derogatory things about other races without being viewed as "insensitive" or racist? If it weren't for the white man, black people wouldn't be where they are today and that is an undeniable fact. The ideology of political correctness has poisoned the entire world. It's toxicity is at an all-time high. If a man can't speak what's on his mind, then what kind of man is he? Black people call each other nigga and use that word to refer to other black people as well as a general reference to any other race. Just because it doesn't have an R at the end of it, it makes it okay because a black person is saying it? What if he (papa john) was any other race than white and he said nigger, would it be just as offensive? Or would it make it less "insensitive"? (I hate that fucking word) What if he used the word nigga instead? Would that have been a racist context of the word? Now I certainly understand the situation due to the public aspect of what he said and he should have kept his mouth shut, but he goddamn sure shouldn't apologize for it. Its quite pathetic that white people who have been poisoned by political correctness are so scared of offending other races by being "insensitive" or too chicken shit to speak what's on their minds because they're too scared to stand up for themselves and their beliefs whether it's offensive or not. BTW the word nigger is not exclusive to black people and it's fucked up that the media has brainwashed people into thinking that it is. If you want to talk about how racist someone is, how about you talk about black people and how they have accepted to calling each other nigger by they're own race. Oh, I forgot it doesn't have an R at the end of the word, so it's perfectly acceptable, right?
Subject: (no subject)
From: Greg Forkner

To: Chris Thompson

Pretty sure even n words like his pizza.
Subject: The pizza closet queen
From: Mike Walker

To: Chris Thompson

Pappa queen has a new pizza. Watermelon and cotton seed. Butt he's not a racist drag queen. He just likes makeup...
G/O Media may get a commission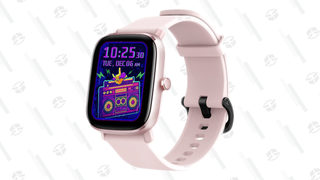 20% Off
Amazfit GTS 2 Mini Smart Watch
Get fit
Has built-in Alexa so you can ask questions and carry your smart assistant around with you; it has a battery that can last up to 14 days, has over 70 different sport modes, is 5ATM waterproof, and tracks stats like your heart rate, calories burned, sleep, and more.
Subject: (no subject)
From: TEXAN 120466

To: Tom Ley

The minute niggers stop using derogatory words to describe White People and other races, their own included, I will stop calling them What they are. Poor Papa John, no 1st Amendment for him.
Subject: words we use
From: Thomas Pennington

To: Tom Ley

So it is bad to use the n*** word if you are not black, but ok to use the d*** or p*** words when writing to the general public? don't think so.
Subject: Racism
From: Rod Taylor

To: Samer Kalaf

Regarding your article about Papa Johns founder and his remarks about Col. Sanders. You alluded Col. Sanders "looked the part". Just how does someone "look the part" of being a racist. Because he was white, or because he had a southern accent? I know plenty of liberal, northern, city dwelling bigots... like the author of your article and the editor. "Look the part"? Look in the mirror you narrow minded liberal bigots.
Subject: Racism and Col. Sanders
From: Rod Taylor

To: Samer Kalaf
I almost forgot "Negro" is the proper terminology for a Negroid human. There are only 3 races scientifically speaking, Caucasian, Negroid, and Asian. If someone finds any of these terms offensive they're just being ridiculously dim and should not be taken seriously.