Every week, the Masked Man, Deadspin's pro wrestling correspondent, honors the sport's fallen and examines their legacies — famous and obscure alike. Today: Ludvig Borga, who died Jan. 8 of an apparently self-inflicted gunshot wound.
I'm guessing that Ludvig Borga (1963–2010) wouldn't be tops on your list of all-time great anti-American wrestlers. He's someplace southward of the estimable Colonel DeBeers, Nikolai Volkoff and the Iron Sheik, and, hell, probably even the Quebecers, the rather bland bad guys from the frozen north. But there's something about Borga, aka Tony Halme, that encapsulates the entire U.S. vs. Them fetish of the pre-modern wrestling era. Like Ivan Drago in Rocky IV, Borga was genetically engineered with the sole purpose of striking fear in the hearts of an American audience — but not so much fear that you ever really questioned the ending.
The origins of this type of storytelling in wrestling go back to those halcyon days when pro wrestling existed not on cable television but in low-rent coliseums and state fairs, and where without the ability to attach long, developed storylines to feuds, the promoters grabbed onto the lowest common denominators: blond prettyboy vs. diabolical masked man, American vs. foreign aggressor, nice white person vs. angry black person.
The fact that this sort of lazy booking was still going on in the early 1990s, when Borga surfaced in the World Wrestling Federation, probably says as much about our culture as it does about the WWF creative team, but it was nonetheless standard. At the same time, Lex Luger's briefs went from evil silver to red, white, and blue, and that was all it took to get the crowds cheering for him.
And so when Borga debuted in the WWF, entering the ring to the Finnish national anthem and slapping hapless jobbers into his "Torture Rack" finishing hold, even the most thickheaded of wrestling fans knew a confrontation with the newly patriotic Lex Lugar was in the offing.
Revisiting Borga's most notorious match — the All-Americans vs. the Foreign Fanatics at Survivor Series 1993 — is like touring a wrestling morgue. Participants include notable Dead Wrestlers Rodney "Yokozuna" Anoa'I and Bryan "Crush" Adams; Luger, who suffered a spinal stroke and was paralyzed in 2007 (he has since regained some motor function); and Scott Steiner, who tore his trachea in Puerto Rico and was put into a two-week-long induced coma while doctors operated on him. Not an altogether healthy bunch.
G/O Media may get a commission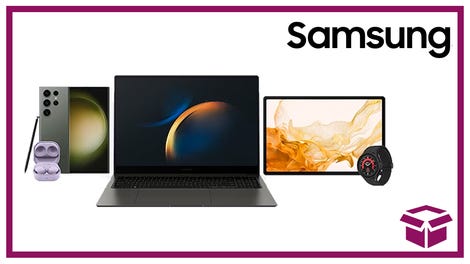 24 hour deals
Discover Samsung - Daily Deal
Unfortunately, the Luger vs. Borga singles tilt was not to be. Borga hurt his ankle in a match soon thereafter and was never heard from (in WWF storylines, anyway) ever again.
Halme's public life didn't end there, though. As Jonathan Snowden tells it: "Halme also wrote four books and had a gold single, 'Viikinki,' from his first and only album. And, like Finland's version of Jesse Ventura or Antonio Inoki, Halme was elected to Parliament."
That he turned out to be a real-life Finnish nationalist — or, rather, Nativist — is sort of beside the point, as are his alcohol-related arrests, his stint in a mental institution, and the "SS" purportedly tattooed on his calf. He was important to us wrestling fans as a symbol: Evil Personified. Or, at least, Evil Oversimplified.
Ludvig, we'll see you in the fjords of heaven.
DWotW Bonus Trivia: Halme fought MMA legend Randy Couture in his very first match in the UFC.
The Masked Man works in publishing.