Every week, the Masked Man, Deadspin's pro wrestling correspondent, honors the sport's fallen and examines their legacies — famous and obscure alike. Today: "Mr. Perfect" Curt Hennig, who died Feb. 10, 2003, of acute cocaine intoxication.
The best sports movies according to Toheeb Jimoh
I know that Wikipedia isn't quite a treasure trove of contemporary photography, but at first glance it nonetheless strikes one as odd that the photo on "Mr. Perfect" Curt Hennig's page is one of him not in wrestling ring gear but instead in a referee's shirt. But it's fitting (no pun intended) — despite a fairly long career, much of it in the upper ranks of the industry, Hennig spent a large portion of his wrestling career, well, not wrestling. Hennig's WWF career was marked by injury the way that Bill Clinton's presidency was marked by controversy.
When he was in the ring, though, it was often a spectacular sight. Hennig was a top-shelf in-ring technician, and his résumé reads like a Who's Who of wrestling talent in the late '80s and '90s. He held the AWA World Tag Team Championship with Scott Hall, who was working a gimmick that was more of an anabolic Magnum P.I. than the Razor Ramon persona that would make him famous.
He beat the iconic Nick Bockwinkel for the AWA heavyweight title and lost it to Jerry "the King" Lawler. Even in his twilight days in WCW, he held the U.S. title and later was a tag team champion along with Barry Windham[1].
G/O Media may get a commission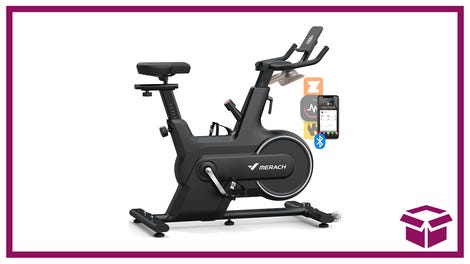 14% off + Coupon
Merach Indoor Cycling Bike
During his WWF period — indubitably his heyday — he feuded with Kerry Von Erich, Shawn Michaels, Bret Hart, Hulk Hogan, Lex Luger, and Ric Flair. He was introduced to the masses as "Mr. Perfect" — a consummate athlete who was good at everything and who was well aware of that fact.
Hennig inhabited his character more fully than any wrestler this side of Kamala. He was "Mr. Perfect." But he missed large chunks of time due to injury, including almost all of the period from 1994 to 1997. He spent that time receiving millions of dollars in payment from a legendary Lloyd's of London insurance policy that Hennig had taken out after his first serious back injury. If he could have gotten a policy on what looked like a surefire Hall of Fame career, he would have made millions more.
Because in the ring, in his prime, Hennig had a magic that couldn't be duplicated and that can hardly be defined. His persona wasn't kitschy like Rick Rude's lothario act or absurdly contrived like Ted DiBiase's "Million Dollar Man" gimmick. Hennig was an asshole whom fans secretly loved, the showoff who was emulated by a cohort of little boys. As Rick Scaia, the Web's smartest (if most sporadic) wrestling writer, recently put it, "Mr. Perfect made me desperate to want to grow up to be him." And this adoration, which so many secretly harbored, came from a generation that simply did not root for the bad guy. Hennig's charisma defied that. (He didn't even change his character when he occasionally morphed into a good guy — he just started fighting bad guys.)
Little wonder, then, that those young boys grew up to be the generation of assholes. Mr. Perfect epitomized everything we wanted to be years before we could put it into words. (The prominent bulge in the front of his tights probably didn't hurt matters.) He was the harbinger for a generation of jackassery, of smart-guy sarcasm and holier-than-thou snark. We are the Mr. Perfect generation.
Which isn't to say that Hennig's career didn't have its lowlights: There was the episode of WCW Monday Nitro where he came to the ring drunk and cut a stuttering, stumbling promo. There was the "Plane Ride from Hell," in which he drunkenly brawled with Brock Lesnar[2]. And of course, there was the cocaine overdose in a Florida hotel room that ended his life.
Hennig's demise came in the midst of a wide-ranging series of wrestling deaths (Terry Gordy, Davey Boy Smith, Road Warrior Hawk, Hercules Hernandez, The Big Boss Man) that, even though fans knew wrestling was fake, destroyed once and for all the fantastic aspect of the enterprise. Hennig, I venture to say, was the most painful loss. Search the web and you'll see the level of passion in his obituaries and tributes. Hennig's death broke the hearts of all those little assholes.
So we bid you a belated farewell, Curt Hennig. You gave us all aspirations of perfection. I'll close with "Macho Man" Randy Savage's own tribute to Hennig — a song (or, rather, "song") during his short-lived music ("music") career.



FOOTNOTES:
[1] This last run was part of a storyline that was preposterous even by WCW's nonexistent standards, when Hennig (who, let us remember, hailed from Minnesota), as part of a group called the West Texas Rednecks, took on rapper Master P and his No Limit Soldiers. Hennig and his posse even recorded a song to incite the feud:
The Atlanta-based writers of WCW somehow mistakenly thought the average wrestling fan would cheer for Master P and company. They were wrong.
[2] Hennig was one of two wrestlers to be fired after the fabled airplane catastrophe — the other was his former partner Scott Hall — despite the fact that numerous wrestlers were at least as culpable in the madness, and so Hennig subsequently called himself the "Pete Rose of wrestling." Which is an apt comparison, except for the fact that there was a Pete Rose of wrestling: Pete Rose.
The Masked Man works in publishing.