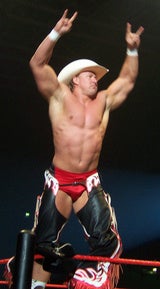 Lance McNaught, aka former WWE wrestler Lance Cade or Garrison Cade, died Friday morning in San Antonio. He'd apparently been taken to the hospital for trouble breathing on Tuesday but asked to be released Wednesday.
Apparent cause of death: heart failure. He was 29.
A post on Wrestling Observer/Figure Four Online indicates his final years were troubled ones:
He was released in October 2008 after an incident on an airplane where he had a seizure, believed to have been due to use of either pain killers or muscle relaxers, and had to be taken off the plane. ... A storyline idea involving his return was proposed in September [2009] and he was signed again. While he was at home waiting to start on the main roster, a WWE official spoke with him in a phone call in January and was concerned about his lack of coherence in the conversation.
Go here to see the dead wrestlers list Cade joins. It includes the Junkyard Dog. RIP, JYD. You deserved a better end.
Lance Cade passes away [WWE.com]
Wrestler's death could affect McMahon's run [Yahoo Sports]