Originally published June 14, 2011.
Ronda Rousey, in August of 2008, was 21 years old. Her home was Riverside County, California. When she was 14, she had named her new kitten Beijing because she was so certain she'd be there for the 2008 Games, as a judoka — like her mother, Dr. AnnMaria De Mars, who had been a world champion before the Olympics even had a medal for women in judo. I had her mother's cell phone number, in case I needed to call to talk about Ronda's career, her accomplishments, the cat.
I had never seen Rousey compete before; I knew these things because NBC had given me a disc with a digital copy of the research manuals that a few NBC employees had been working on since 2004. But she'd arrived in Beijing, rather triumphantly, and she was close to becoming the first American woman to ever win an Olympic medal in judo. I was in New York, sitting in front of a computer screen and sipping burnt coffee in the Saturday Night Live writers' room at 30 Rock at about four a.m., watching Rousey hop around on a blue mat in the preliminaries.
NBC has the rights to the Olympics again, for a very long time, and they know what they'll do with those rights. I was on the Manhattan-based NBC Olympics research crew in August 2008, working to compile the day-to-day results and send them to the broadcast writers in 50-word bites. They'd paired me with a fellow college kid, just as wide-eyed, and assigned us the five most obscure sports in the Games: shooting, judo, taekwondo, sailing, and modern pentathlon. There was also a bit of field hockey involved.
The night shift was from 10 p.m. till 10 a.m. every day — daytime in Beijing — and I'd sit parked in front of my desktop, watching competitions taking place halfway around the globe and making calls to places like Ulaanbaataar to check the spelling for Naidangiin Tüvshinbayar. In between, I'd take the bus uptown and crash on a family friend's couch. Daylight had never felt so foreign to me, but then again, work had never felt so little like work: Just a week before, I'd been interviewing Little Leaguers in northern Vermont, and now I passed Brandi Chastain in the hallway.
G/O Media may get a commission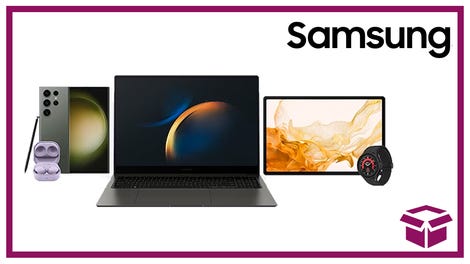 24 hour deals
Discover Samsung - Daily Deal
It was up to us researchers to learn our sports and their respective stories right away — essentially, we were blogging the Olympics. The manuals listed every competing athlete for every sport, along with information like hometown, DOB, and, if he or she had been deemed compelling enough, biographical information. Rousey, with the champion-mother storyline, was decidedly a candidate for being interesting:
Personal: …Is very forgetful…Not only has she lost her passport twice, Rousey also has shown up at competitions without her judogi…At the 2008 Olympic Trials, she had to wear Pedro's pants because she had worn the wrong color ghi…Has a cat named Beijing, not coincidentally the site of the 2008 Olympics…Computer desktop background is a picture of Marilyn Monroe weightlifting in a bikini top…Likes 'extra extra extra hot buffalo wings.'
I didn't really need the hot-wings detail, but it made me feel as if I knew Ronda Rousey, and that I could help America feel as if it knew her, too. NBC has owned the captivating-human-element format for 25 years, and last week, the International Olympic Committee (IOC) announced that, for a bid of $4.48 billion, the network secured the rights to broadcast the next four Olympics — right up to 2020: London; Sochi, Russia; Rio de Janeiro; and the Winter and Summer Games after those, wherever they might be. NBC's proposal, its first without Dick Ebersol in an eternity, outmatched ESPN's and Fox's by hundreds of millions of dollars.
From the judo desk, the challenge of Olympic broadcasting was obvious: no one really gives a shit about judo results, certainly no one gives a shit about sailing results, and the list goes on. They're not just niche sports; to a casual viewer, they're objectively boring sports. Judo looks like some Buddhist-inspired tango, and that's at its most interesting moments.
And so the challenge was and is to find drama — heartbreak or feel-good will do — that might be worthy of a prime-time summary, a biographical, tear-jerking video segment, or even a mention by Bob Costas. This was a part of the job description that required zero explanation or emphasis. Anyone who has watched even a few hours of NBC's Olympic broadcasts since 1988 has an implicit sense of the story that will reach Costas's armchair by that ever-burning fire. It would have been somewhat fascinating to see how Fox or ESPN might have manufactured those moments had their bids been successful. Even without the guy who was almost the brand himself behind it, the NBC Olympics aesthetic seems inimitable — and it has a lot to do with their crafting of the stories that make your mom cry.
Ronda Rousey, by the file, looked like judo's best, and probably only, candidate for one of those NBC moments. Dr. De Mars would fly to Beijing in a few days to watch her daughter, but she was home in California when I called that night and learned what I knew would make prime-time: Rousey had a story that was tailored to broadcast.
We talked for about an hour. Dr. De Mars told me that she'd continued training with Ronda until, at 16 years old, daughter fractured mother's wrist in a workout. Now she was happy to watch from the sidelines. Ronda's father had died when she was eight years old — a fact that had been well-publicized before our conversation — and her mother told me that she was bringing the American flag they'd draped over his coffin at the funeral to Beijing, to hang in the arena after Rousey earned her medal.
"If there's going to be a flag, it has to be that flag," she said.
These are words that either were made for an NBC Olympic broadcast, or that the NBC Olympic broadcast has made by being the NBC Olympic broadcast for a quarter of a century. A few days later, Ronda (I'd started thinking of her on a first-name basis) won a bronze medal for her weight class. I sat offstage at the 30 Rock studio and watched an NBC reporter read Ronda's story during a prime-time slot. It was that kind of television news moment that ends with an earnest, unblinking stare into the camera after the punctuated final sentence: AnnMarie brought the flag all the way from California. Fade to commercial. I don't remember the actual phrase, but I do remember the strange, final awareness that I'd just helped manufacture a manufactured emotional television moment, and that it was my job to do so.
Two years after earning her medal in Beijing, in August 2010, Rousey debuted as an amateur MMA fighter. She started on the pro circuit in March of this year.
After NBC made its pitch to the IOC in Lausanne, there was a lot of talk about how passionate and heartfelt the network's presentation had been. Reportedly, NBC arrived with a 19-person delegation — over half of whom spoke during the presentation — and with "a video featuring NBC producers, marketers and researchers talking about their first Olympics, their favorite Olympic moment and what the Olympics meant to them." The video was introduced by Bob Costas himself. The IOC was moved:
'The numbers did enter into it, but I will tell you we were blown away by the presentation,' said Richard Carrión, the chairman of the IOC finance committee. 'The passion that this team has for the Olympic Games was very impressive and very evident to all of us. They know they have been doing this for quite a while, so we knew that they know what this is about. They know the values that are important to us and it was a combination of all those things. I'd be less than honest if I said the numbers didn't come into play, but it was all of it.'
Carrión admitted to Sports Business Daily that he "kept bringing his water bottle up to his face to be sure he didn't tear up."