Deadspin's archives go far deeper than you probably suspect. Occasionally, we like to revisit these timeless stories and remember the internet the way it was before it existed. Introducing Deadspin Classic....
April 21, 1988
North Dakota Alum Really Looks Up To Hitler
Ralph Engelstad, owner of the Imperial Palace casino in Las Vegas, is in a bit of hot water because of a birthday party he threw yesterday evening in a private suite of his hotel. Probably because it was a birthday party for Adolph Hitler.
Englestad is originally from Minnesota, but is a graduate of—and prominent donor to—the University of North Dakota. He moved to Vegas in the 1950s and got in on the (sort of) ground floor of the growing gambling trade and has since become one of the most successful independent hotel owners in the city. Oh, and he also loves him some Nazis. Casino employees say Englestad's primary joy in life is his "War Room, a 3,000-square-foot private suite filled with Nazi memorabilia-heroic murals of Adolph Hitler and staff, swastikas and Nazi daggers, and military cars used by Mussolini and by Hitler and his Third Reich henchmen Himmler and Göring."
Here's the real shocker—he's also a bit of bastard! Employees were afraid to question or blow the whistle on him out of fear of retribution, which may or not have include being shipped out of state in box cars. Lawsuits that have just now become public accuse Englestad of religious discrimination, sexual harassment, wrongful termination and, of course, anti-Semitism. This is actually the second Hitler birthday bash that Englestad has thrown in the hotel. But hey, at least there was cake!
Another guest says that during this year's party Engelstad "forced some Jewish employees to come against their wishes. He wanted one Jew to cut the cake, but the person ducked out. Ralph ran around trying to find him."
G/O Media may get a commission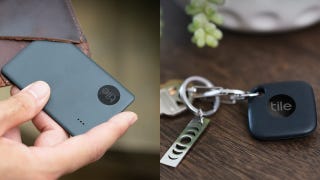 Up to 35% off
Tile Item Trackers
This guy isn't a Holocaust denier ... he's a Holocaust enjoyer!
Learning of a Casino Owner's Birthday Parties for Hitler, Even Jaded Vegas Is Outraged [People Magazine]
December 20, 2000
North Dakota Booster Wants Hatred Of Indians To Live Forever
Ralph Englestad, whose name is enshrined on the University of North Dakota's dumpy old hockey arena, has graciously offered to build the school a new one, entirely with his own money, on one condition—they better keep picking on those Indians!
The school is currently in a bit of a tussle with the NCAA over their nickname, the Fighting Sioux. The powers that be have kindly asked that they stop being so racist, but then again ... tradition and stuff. So the university is contemplating wiping out the Sioux once again and going with something more cuddly, like Bears. But Englestad wants none of that. He wrote a letter to school president Charles Kupchella explaining how if they touch one feather on that injun's headdress, he will pull the plug on his half-finished arena that he has already spent $35 million on, turn off the heat, and let it crumble to the ground.
You need to think how changing this logo and slogan will affect not just the few that are urging the name change, but also how it will affect the university as a while, the students, the city of Grand forks, and the state of North Dakota.

If I walk away and abandon the project, please be advised that we will shut off all temporary heat going to this building, and I am sure that nature, through its cold weather, will completely destroy any portion of the building through frost that you might be able to salvage. I surely hoped that it would never come to this, but I guess it has.

It is a good thing that you are an educator because you are a man of indecision, and, and if you were a businessman, you would not succeed, you would be broke immediately.

Please do not consider this letter a threat in any manner, as it is not intended to be. It is only notification to you of exactly what I am going to do if you change this logo and this slogan.
According to those familiar with the project, Englestad plans to incorporate the school's famous Indian head logo on every available space in the arena (including a huge granite carving on the main concourse) so that if the school tries to change the name in the future, it will be nearly impossible to erase the mascot from the arena. Also, the building itself will go into a trust to be controlled by Englestad and his family and then leased to the university for their use, so that the school itself will have no control over its operations.
Man, this guy really knows how to play hard ball. Where did he learn such impressive negotiating tactics?
Dear Chuck [UND]
N. Dakota at center of 'hostile' debate [USA Today]
Chancellor Supports Retiring 'Fighting Sioux' Logo That Threatens Hockey Arena [Fox News]
November 28, 2002
Hitler-Loving North Dakota Fan Will Finally Get To Meet His Hero
Noted asshole Ralph Louis Engelstad is dead.
Ralph L. Engelstad, 72 — Casino Entrepreneur [New York Times Obiturary]
Ralph Engelstad [Kamm.org]
Ralph Engelstad [Wikipedia]
NO MORE FIGHTING SIOUX [Graney and the Pig]
The Fighting Sioux Will Fight No More [Deadspin]