Plaxico Burress's saga has now reached its sad dénouement, with the former Giant matriculating into the New York penal system. One loose end remains, however: the matter of the sweat pants he wasn't wearing. Who's responsible for the sweat-pants misinformation?
We refer, of course, to the sweat pants in which Plaxico had supposedly secreted his Glock the night he capped himself in the thigh. Everyone had a chuckle over the sweat pants. This site did. Jon Stewart did. Patton Oswalt did. Gun play isn't funny, but sweat pants certainly are. And sweat pants in a nightclub are very funny.
Last month, however, in an interview with ESPN's Jeremy Schaap, Plaxico took great pains to clarify that he was wearing jeans — black jeans — the night of the shooting. Earlier, the New York County District Attorney's Office had quietly come to the same conclusion:
BURRESS was carrying the pistol in the waistband of his jeans, with bullets in the magazine, a round in the chamber and no holster.
G/O Media may get a commission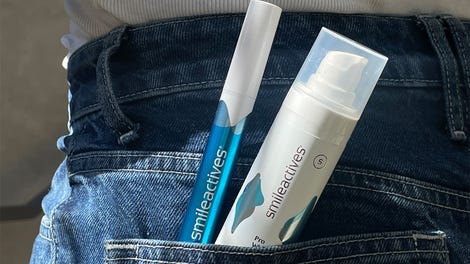 58% off
Whitening Powerhouse Pen & Gel Duo
So why did we mistakenly believe he was wearing sweat pants? Whence came the sweat pants? Who put sweat pants on Plaxico Burress?
The earliest citation is a Dec. 1, 2008, New York Post story, authored by Murray Weiss, Larry Celona and Eric Lenkowitz, headlined, "PLAX BID TO KEEP HIS SHOT IN THE DARK." It is an otherwise fine piece of reportage that notes the following:
The players had arrived at the Latin Quarter at around midnight Saturday, and all walked through metal detectors - at which point, Burress informed security he had a gun.

He was then pulled aside and frisked, revealing a handgun tucked in the waistband of his sweatpants, sources said.
And who might those sources be? We e-mailed Celona, who replied:
Originally a detective said he was wearing sweats.
It was bad enough that Plaxico Burress faced felony charges and the probable end of his NFL career. But for the cops to turn him into both a poster boy for illegal gun possession and a national fashion don't? That is a bridge too far. I-Team's conclusion: Plax was railroaded.