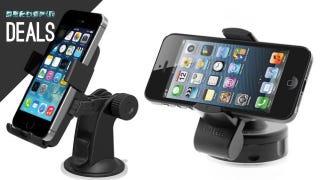 While nobody condones sending a Yo or Snapchat while you drive, keeping your phone visible in the car is important if you use it for GPS or for audio playback. iOttie makes some of the best dash mounts in the business, and Amazon has put a ton of them on sale, today only.
Almost all of the models should work pretty much identically, the main difference being the length of the arm and the number of joints, but they should all comfortably hold just about any smartphone on the market. The only exception to watch out for is the lone XL model, which will accommodate the Galaxy Note (but not the iPhone).
As is always the case with Gold Box deals, these are only available today, and many may sell out early, so don't waste any time. [ Amazon]
---
This basic Bluetooth headset is only $15 today, and pairs well with the iOttie dash mounts above. [Jabra Bluetooth Headset, $15]
---
If you don't want to fiddle with setting up a custom NAS, the WD My Cloud is a great turnkey solution for your cloud storage needs. The 4TB model is as cheap as it's ever been right now, and I recommend you get one quickly. I bought one a few months ago, and I've been really happy with it. [WD My Cloud 4TB, $180]
---
Sears is once again taking a 20% or more off a ton of DieHard car battery accessories, including jump starters, maintainers, inverters, and jumper cables. Get them before they're gone. [DieHard Battery Accessory Sale]
---
This deal is a little janky, but it's the best deal we've ever seen on the SONOS PLAY:5 wireless speaker. AT&T is taking 25% off any online order when you purchase three accessories, and since the SONOS counts as an accessory, so all you have to do is add a couple of $5 smartphone cases (or whatever, really) to your cart to see your entire purchase marked down to $310. [SONOS PLAY:5]
---
For serious food aficionados, this deli quality meat slicer can slice meat paper thin, or 1" thick if you prefer. It's Amazon's #1 selling electric slicer, and it's $20 less than it's ever been. [Chef's Choice Electric Food Slicer, $109]
---
Audio Technica is one of the most trusted names in audio, and their ATH-CKM55 earbuds are marked down to $40 today, or about $20 off their regular selling price. [Audio-Technica ATH-CKM55 Earbuds, $40]
---
This clever surge protector is designed to accommodate all of your annoyingly large power bricks, and even has a couple of USB ports for good measure. [Accell Powramid Surge Protector, $26]
---
Plasma TVs are set to go extinct, but don't blame their picture quality. This smart 3D model from LG is one of the last in production, and it can secure your home theater's future for under $1000 today. It's only been out for about a month, but it's never dipped below $1100 until today. [LG 60" Smart 3D Plasma TV, $995]
---
Coffee snobs will be excited to see the highly-regarded Nespresso Espresso Maker with Aerocinno Milk Frother is $50 off its usual price right now. Nespresso gear has universally-great user reviews, and this model is no different. [ Nespresso Espresso Maker with Aeroccino Milk Frother, Black, $249]
---
Get all of your deals in one place with today's edition of Kinja Deals!
---
Home
Kitchen
Camping and Outdoors
Tools
Auto
Fitness
Apparel
Men's Apparel
Home Theater
TVs and Projectors
Home Audio
Streaming Boxes
Entertainment
Blu-ray
Anime
Inventory
Apps
iOS
Android
---
This post is brought to you by the Commerce Team. We bring you the best deals every morning on Kinja Deals, and collaborate with you to find the best products on Kinja Co-Op. We operate independently of Editorial, and if you take advantage of a deal we recommend, we may get a small share of the sale. Connect with us on Twitter and Facebook. We read the comments, and we want your feedback.