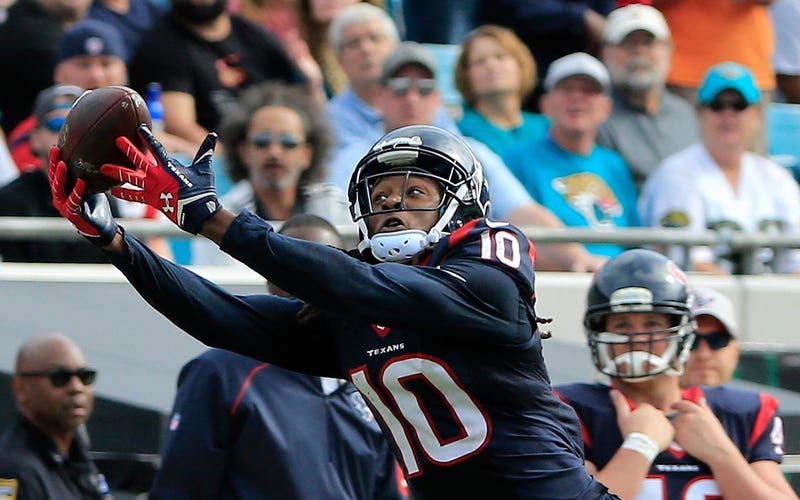 Texans wide receiver DeAndre Hopkins only caught six balls for 50 yards during yesterday's blowout loss against the Dolphins. Normally, that's the kind of stat line you'd expect a No. 1 receiver with a bad quarterback to put up in a game where the entire team fell apart around him. But Hopkins has been lighting it up every week, and the fact that six catches for 50 yards is an anomaly rather than the norm says everything about how hard he's worked this season.
Through seven weeks, Hopkins has been a workhorse. Not only does he lead the league in receiving yards with 776, he's also outpacing everyone in targets at an absurd rate. His 102 targets put him 12 ahead of Julio Jones and on pace to smash last year's high mark of 184, set by Antonio Brown. The Texans have thrown a total of 327 passes this year, meaning that when they drop back to pass, the ball has sailed toward Hopkins 31 percent of the time. Thirty-one percent. Think about that—when Russ Westbrook uses 31 percent of his team's possessions, it's a cosmic occurrence; Hopkins is out here doing that on a football field.
But what's more impressive than the raw target and reception numbers is specifically how Hopkins has gone about putting up his numbers. He isn't a burner—he's caught nine passes that were over 20 yards but his longest reception on the season is just 35 yards—so he's had to spend most games carving up defenses with slant routes, back-shoulder catches, and quick outs. Hopkins operates in crowded spaces, meaning he gets hit a lot and often has to pull absurd catches out of thin air. Take this one, for example:
Look at that thing. Without the wheels to burn past his coverage, Hopkins just powers through the bump and just angles his route so he gets his defender on his hip as the ball comes out. Yeah, Ryan Mallett drops it out of reach of the corner, but he doesn't give Hopkins much room to work with beyond that.
Then there's the fact that Hopkins has been doing all this with two bags of ass rotating at the quarterback position. You know how the back-shoulder throw looks like a gorgeous cheat code when Aaron Rodgers throws it? This is what it looks like when Brian Hoyer is slinging 'em:
Hopkins has to deal with shit like that all the time. Through Week 6, Football Outsiders had Hopkins rated as the fourth-most productive receiver in the league by DYAR, but there's a big difference between Hopkins and the other guys at the top of that list. His catch rate is a relatively sub-par 58 percent, despite having just three drops (reliable drop statistics are frustratingly hard to find, but most places that try to chart them have him at three). That's partly a function of the sheer amount of balls that have been thrown his way, but Julio Jones has caught 72 percent of his passes, meaning that Hopkins has seen plenty of balls that had no chance at being caught.
There aren't may reasons to think the Texans won't continue to be a disaster, but the chances of seeing Hopkins turn an errant throw into a highlight-reel catch are good enough reason to keep an eye on them. Maybe one day we'll get to see what Hopkins can do with a great quarterback throwing him the ball; he'll just keep running slants and catching balls in traffic and grinding out 100-yard games until then.