It's been a while since we did a proper fisking of a terrible piece of sportswriting. Actually, we probably did it a few hours ago, but no matter: This putrid column from ESPN's Ashley Fox deserves special recognition. Fox, whose archive reads like a First Take producer's brainstorming session, has taken the New England Patriots to task for employing an alleged murderer when they did not know that they were employing a potential alleged murderer.
The New England Patriots seem to be trying to do the right thing. Now. Now that they know Aaron Hernandez has been accused of executing an associate. Now that their star tight end is behind bars facing murder and weapons charges, denied bail and awaiting a trial that likely won't start until next year.
I know! The Patriots cut Hernandez NOW, when they have reasonable evidence that he probably killed people? Way to go, you Johnny-come-latelies! Awfully easy to cast the man aside now that he's been accused of a horrific crime, but it takes men of real grit to assemble a team of futuristic pre-cogs, sift through data analyses, and come to the conclusion that they preemptively should cut one of the best tight ends in football because they can reasonably assume he'll be participating in gangland-style murders mere months hence. That's how Ted Thompson does it!
New England has acted wisely and admirably in the immediate aftermath of this heinous story, but it can't be forgotten that New England was the organization that employed Hernandez.
The Patriots acted wisely and admirably, BUT LET'S NOT FORGET HOW UNWISE AND UNADMIRABLE THEY WERE.
They were the team that picked Hernandez 113th overall — after 31 other teams had repeatedly passed on a player who was viewed as a first-round talent — because he was big and strong and could catch the football and make their team better.
G/O Media may get a commission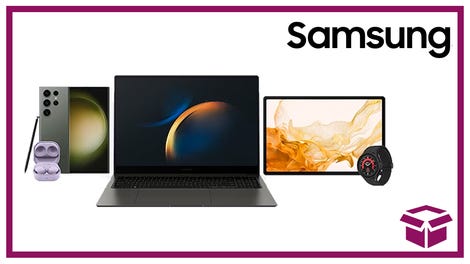 24 hour deals
Discover Samsung - Daily Deal
I know! It's almost as if they viewed him as a devalued asset that could offer them huge returns at a relatively low investment! And here I thought all NFL teams assembled draft boards simply by measuring TEWBOWNESS.
New England tarnished its brand by choosing Hernandez twice, and it will take more than a jersey exchange to wipe that tarnish away. It will take time. And better choices. And fewer risks... Hernandez was part of the Patriot Way that seems to have gone awry.
This won't be the first time you hear Fox refer to the Patriots "brand," as if Darren Rovell ghostwrote her copy. Unless your name is Phil Simms, the name "New England Patriots" usually connotes the following things:
• Spygate
• Tuck Rule
• Cutting players the instant they say, "Boy, it sure would be nice to have a raise, coach!"
• Bill Belichick banging your mom
• Bill Belichick refusing your handshake
• Bill Belichick shoving your replacement official
• Robert Kraft talking with that weird frog voice of his
• Tom Brady petting a goat
• Simmons bitching about the Helmet Catch
• A hilariously weak division
You know what I don't think about when I think about the Patriots? INTEGRITY. I don't think about that because no football team can possibly keep 50 Mother Teresas on its roster and hope to win a football game. Mother Teresa is dead and can't catch the ball for shit. Like any business, NFL teams choose employees based on value. If their personal baggage outweighs their on-field value (or if they can't play because they'll be spending the next 40 years in Poundtown), they let them go. There is a fundamental misunderstanding of what the "Patriot Way" is here. It doesn't mean WE ONLY START UNDRAFTED HUSTLE PLAYERS NO GLORY BOYS, it means, "we will be the most bloodlessly unsentimental team in football and that will be how we win." It's not some magical torah of rules for winning both in football and life. It's just a business plan. Taken in that context, drafting Aaron Hernandez makes perfect sense.
Team owner Robert Kraft is to blame. So is coach Bill Belichick. They made the choice to gamble on Hernandez, and while they could not have foreseen that one day their star tight end would be charged with murder as well as five gun-related offenses, they knew he had issues, including reported multiple failed drug tests while Hernandez was at Florida.
Look at that paragraph again and marvel at how stupid it is. While they couldn't have possibly known he'd be a murderer, THEY TOTES SHOULD HAVE KNOWN SOMETHING WAS UP. Failing a handful of drug tests (at Florida, no less) probably shouldn't lead you to assume that fucking MURDER is just around the corner. Murder is really going the extra mile as far as being a shitbag is concerned.
Kraft is one of the most respected owners in the NFL, yet his organization — his brand — is now indelibly tarnished.
OH THE BRAND OH NO IT'S TARNISHED ALL THE SILVER POLISH IN THE WORLD...
He did the right thing once Hernandez was arrested...
Which is kind of what matters, yes? The Patriots acted wisely and admirably, but couldn't they have done MORE? Couldn't they have filled Hernandez's roster spot with a cancer baby?
New England can and will overcome this...
Indeed, probably by signing other undervalued players with questionable physical skills or shady backgrounds. Guess whose defense would suck even harder without Aqib Talib?
...but there will forever be a stain on the franchise that neither the swift release of Hernandez nor the exchange of jerseys can erase.
THE TARNISH, IT IS SO STRONG.
Odin Lloyd is dead.
He is?
He was buried on Saturday.
No way! I HAD NO IDEA THE SITUATION WAS SO GRAVE.
Hernandez was part of the Patriot Way...
THERE IS NO PATRIOT WAY IT'S JUST A WAY. THERE'S NO SPECIAL STAMP ON OPERATING A FOOTBALL TEAM WITH PRAGMATIC EFFICIENCY.
...because he could catch passes and make the team more successful. The franchise, led by Kraft, needs to recalibrate and be more selective going forward, starting now.
Yeah, Patriots. Stop employing future murderers! They couldn't be easier to spot.