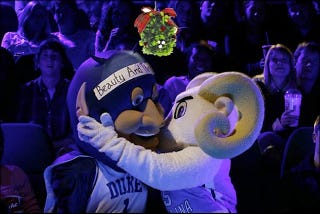 It's an annual tradition for the editors of the Duke Chronicle and the Daily Tar Heel to exchange trash talk letters in advance of their schools' first matchup of the season. We got them both, and boy, do the young minds of Tobacco Road have a way with words.
These were shared with the staff of North Carolina's Daily Tar Heel in an email referring to the competition as "The Douche Chronicle." It ended with this exhortation: "THESE ARE OFF THE RECORD so please please please do not share them, especially not on the internet." They were promptly forwarded along to us. (Click to embiggen.)
Who do you give the victory to? I have to hand it to the UNC kids for evocative language: a must for the future journalists of America. While the Dukies restrict themselves to actual basketball, the Tar Heel staff runs the gamut from the Fuck List to the recent ban on tailgating at Duke football.
Bonus points for UNC's chancellor taking a jab at K-ville on Twitter. Though judging from the letter, I'm not so convinced his students spend all their time asking smart questions and talking about the future.