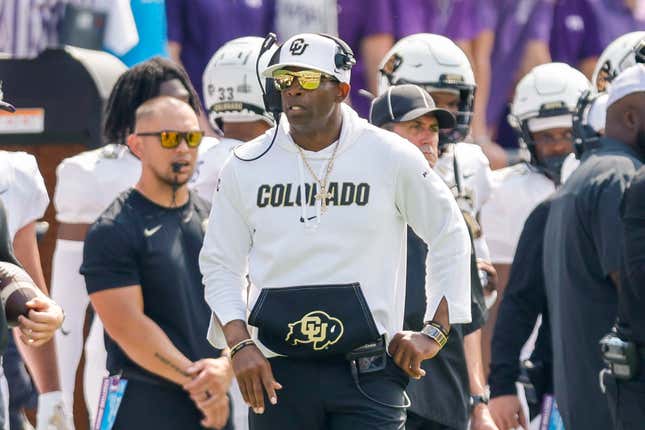 Deion Sanders is an iconoclast, if nothing else. Sanders has gone against the grain by taking the rarely traveled SWAC route to a Power 5 coaching job, in addition to his use of the transfer portal, his braggadocious coaching style, his deals with Barstool and decision to sign with Colorado over more established programs that were allegedly pursuing him. His boldest attempt to zig when everyone zags involves his declaration to recruit a slew of two-way players.
Partying with hot babes through 1980s Miami as Dan Marino | Bert Kreischer's Ultimate Sports Fantasy
Following Travis Hunters' momentous two-way powerhouse display in his Colorado debut, Deion Sanders is doing his best to bestow his brand on Colorado as Prime University. Part of seeing himself as the protagonist in the Buffaloes' turnaround involves his aspiration to find more players like Hunter. You'd have to go back to Champ Bailey and Charles Woodson to find two-way threats who flashed the ability to make an impact for FBS powerhouses. According to what Sanders told Skip Bayless and Michael Irvin on FS1's Undisputed, he'd like to chase more positionless stars.
While discussing Hunter's holistic approach to playing both sides, Sanders slipped a mention of his recruiting tactics, bragging to Undisputed's enraptured hosts that "It's a few more Travis Hunters out there right now that I'm going to recruit."
Like many of the mad scientist proclamations Sanders makes, it's a fascinating idea that challenges convention. Modern football development orthodoxy discourages players from playing multiple sports, much less both sides of the football. Specialization is the name of the game. Hunter took a chance following Sanders to Jackson State as the No. 1 athlete in the country last fall, then rode in his Louis bags to Colorado. The expectation when Hunter was a recruit was that he'd take the defensive back route to the NFL.
However, Sanders isn't just "any coach." Ironmen are rare gems and Sanders is the ideal diamond cutter. He was inducted into Canton due to his preeminent coverage as an NFL cornerback, but he also moonlighted at receiver while playing professional baseball for the Atlanta Braves, logging a .533 average during their six-game World Series loss to the Toronto Blue Jays.
And yet, finding those diamonds is more easily said than done. He's more likely to find a top-five recruit in football and hoops or baseball than he is to collect Deion clones. One week does not make a trend. Even Sanders acknowledged the physical toll that playing both sides can have on a player of Hunter's caliber and was open about limiting his practice reps.
The answer to whether Hunter will live up to the hype lies in November when two months of wear and tear through the PAC 12 have had an effect. Unlike Woodson and Bailey, Hunter is essentially Colorado's No. 1 receiver. That's probably out of necessity since their top receiver, Montana Lemonious-Craig, bounced after raising his value in the Buffs spring game. And given the exorbitant number of scholarships allowed by NCAA standards, it also defies logic to even mass-produce two-way stars.
There are few bespoke five-star double-threats out there of Hunter's ilk. South Carolina freshman Nyckole Harber was the only five-star "athlete" in the 2023 class. Harbor is also Bruce Feldman's number one player on his college football Freaks of 2023 list due to his track-and-field size in a defensive end's body. Harbor surprised the football world by committing to South Carolina as a receiver when most assumed he'd transition to defensive end. In Sanders' world Harbor would play both if he was open to it.
Malaki Starks out of Georgia was the only five-star player classified as an athlete by 247 in the 2021 class. Now in his third year at UGA, Starks is coming into his own and predictably has been situated at safety in Kirby Smart's all-universe defense. Who could blame him? He was a freshman All-American last season and is also the highest-earning defensive player in the country according to his commercial NIL profit.
Starks played running back in high school, so it makes sense why he wouldn't subject himself to that punishment for meager compensation at UGA's illustrious glue factory. You'll notice the pattern is defensive backs playing receiver part-time. Robert Nkemdiche was occasionally used as a goal line back at Ole Miss, and Myles Jack was utilized as a linebacker-running back multihyphenate by UCLA.
But that physical toll, as well as the developmental difficulties would have to be taken into account. In modern professional football, two-way professionals are rare. To find anyone who's excelled at specialized positions, you'd look towards Angels DH and ace, Shohei Ohtani. Plenty of up-and-coming college and prep school pitchers see themselves able to follow Ohtani's lead, such as the No. 1 pick in 2023's MLB Draft, Paul Skenes, a two-way player at Air Force before transferring to LSU. Even Ohtani's slammed into the physical wall a few times as a result of pulling double duty at the highest level.
If Sanders is insistent on plugging in two-way stars around a positionless offense, it would be worth his time to make a call to Colorado's most renowned alumni of yesteryear. For better or worse, Kordell Stewart offers lessons of his own on the benefits and risks of being tasked with learning multiple positions. Stewart bounced between positions with the Steelers as a receiver, return man and occasionally as starting quarterback, but the jerking back and forth between positions arguably stunted his development. He also had the misfortune of playing in a more rigid era where statuesque pocket quarterbacks were the standard.
Is it possible? Sure. Sanders also called Hunter "a first-round pick on "both sides of the ball." Deion undoubtedly sees himself in a few two-way prep recruits, however, it's hard to tell where the hyperbole ends with him. But Sanders better be sure he's not biting off more than he can chew in chasing his own reflection.