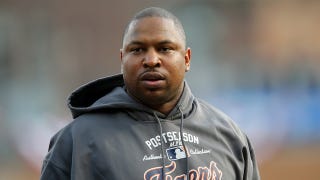 On Tuesday, the Philadelphia Phillies signed Delmon Young, noted anti-semite and worst player to ever win the ALCS MVP, to a one-year, $750,000 contract. Today, we learned that Young's contract has one very peculiar stipulation. From the AP:
The deal for the AL championship series MVP, announced Tuesday, calls for him to get on a scale on six occasions to be chosen by the team. He'll receive $100,000 each time he makes weight, according to details obtained by The Associated Press. The first three times, he must be 230 pounds or less, and the second three, 235 pounds or less.
No, that passage was not lifted from the Onion. This is a real thing that has happened. As far as we know, this is the first time that a baseball player has had the opportunity to nearly double his salary by completing the simple task of not getting too fat. That should tell you about all you need to know about who Delmon Young is as a baseball player.