Every morning, the fine folks at Sports Radio Interviews sift through the a.m. drive-time chatter to bring you the best interviews with coaches, players, and personalities across the sports landscape. Today: Bell admits that money can change one's number one option.
Demetress Bell joined Michael Barkann and Ike Reese on WIP in Philadelphia to discuss the process that led him to Philadelphia, whether the Eagles were his No. 1 option, what sold him on the Philly, his lack of football experience, his versatility as an offensive lineman and his relationship with Jason Peters.
On why he left Philly last week without signing:
"Well, coming into the visit or whatever, I just told every team that I visited before I make a decision I gotta go home and talk with my mom and grandma. And I won't have a decision until that time. And Philly was patient enough to let me go home, and I thank them for that."
On if Philadelphia was his No. 1 option:
"No, they wasn't my No. 1 option. Philly came into the picture after I had visited Arizona, Washington and Pittsburgh, so Philly was my - that was last on the list as far as visiting. But after I met the coaches and stuff I was happy with my visit."
On if Philadelphia still wasn't his No. 1 option after his visit:
"No, not at all. I had to get home, clear my head and get with my mom and get with my family, and just sit around and talk about all the options that I had."
G/O Media may get a commission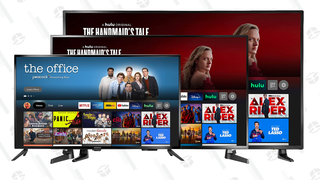 Up to 44% off
Prime Early Access - Insignia Fire TVs
On what, besides the money, sold him on the Eagles:
"When I first got here, like I said, I sat down with the coaches and I was happy. Like, I didn't even have a question for nobody. They covered every aspect of it and they told me how it was. Being straight up with me, I think that means a lot."
On not playing high school football:
"Our high school was too small. I think we might have had 300 people pre-K through 12, so we didn't have enough guys to have a football team, and I didn't play football until my last two years of college. So yeah, this is probably my fifth year, sixth year of football ever. So I'm still learning, I'm still on the cusp of learning."
On if he can play elsewhere on the line:
"I'm athletic so I'm sure I could play guard or tackle either side."
On if he's been in contact with the man he's replacing - and his former mentor in Buffalo - Jason Peters:
"Yeah, I talked to Jason before I came on the visit, during the visit, after the visit, two or three times yesterday, talked to him this morning. So me and Jason got a real close relationship."
This post, written by Brad Gagnon, appears courtesy of Sports Radio Interviews. For the complete highlights of the interview, as well as audio, click here.
More from Sports Radio Interviews
• Jared Sullinger is so done with Columbus.
• Theo Epstein doesn't care what people think of him.
• The Pacers are feeling good about the rest of the season.