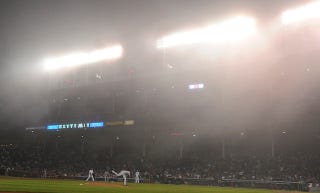 The Nationals and the Cubs played a game under a thick blanket of fog at Wrigley Field last night. The conditions didn't wreak too much havoc on the outcome of the game, but the fog did create one crappy moment for Nationals center fielder Denard Span.
With two outs in the bottom of the sixth inning, Luis Valbuena clubbed a high fly ball to center field. Span couldn't see it:
The next batter lined out to end the inning, so this wasn't a game-changing play, but it was still a shitty one for Span. There are few things in life that are worse than standing alone in the outfield, your hands raised helplessly because you can't see the fly ball you're supposed to be catching.