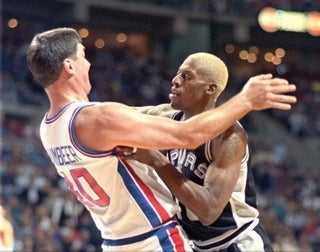 Every morning, the fine folks at Sports Radio Interviews sift through the a.m. drive-time chatter to bring you the best interviews with coaches, players, and personalities across the sports landscape. Today: The Worm talks Oprah, Larry King and LeBron.
Dennis Rodman joined WQAM in Miami with Sid Rosenberg to discuss building his image, Bill Laimbeer, Ricky Williams' wedding, Larry King and Oprah needing to hang it up, his legacy, athletes that have a lot of money today and a matchup of the Bulls' Big Three and Miami's Big Three.
On creating his image:
"I just created this image 16 or 17 years ago. I just tried to separate myself from all the other athletes around the world. … It's amazing how most of these athletes today have got tattoos and try to be different and try to be the man. I was just trying to be different. I was bored and everything was just moving really slow, but once I got with Chicago's team, things started moving really fast and I got to rockstar status. Now … after 10 years of being out of the league, I'm still one of the faces around the world."
On Bill Laimbeer:
"He wasn't a dick. To other players on other teams, yeah, he was a real asshole. … But it's cool the way he intimidated people as far as getting into people's heads. … All the guys on that team got into people's heads and he was the catalyst of all that."
On crashing Ricky Williams' wedding:
"I just walked in. People will tell you around the world that I d0 come in and step into certain places when I'm not welcome, but I wouldn't be Dennis Rodman if I didn't."
On the end of the Larry King Show:
"I've been on his show four times. He's one of those guys where he's been around too long. … It's time for him to move on and let somebody else come in there and rejuvenate the whole show and make it more exciting. It's just like Oprah, same thing, she's been on too long."
On what he hopes people think of him 20 years down the road:
"My legacy has been going ever since the day I retired in 2000. … So I got another 10 years. I think people are going to remember me as one of those guys that worked very hard, did his job, didn't bitch and complain about nothing. Once you play with all the greatest athletes on the planet, you can't bitch because they gave you the opportunity."
On athletes with money today:
"A lot of athletes today aren't eccentric. They try to walk around with a chip on their shoulder saying they've got all this money. … A guy's making $15 million, but who knows you? Who cares you walk around with $15 million? You've got no personality. You have no excitement about yourself. It's one thing to be making money and having a good time and enjoying life. … It's another thing to be a dickhead about it and an asshole the whole time."
On who would win a game that matched him, Pippen and Jordan against LeBron James, Dwyane Wade and Chris Bosh:
"No contest. That's not even a question."
This post, written by Eric Schmoldt, appears courtesy of Sports Radio Interviews. For the complete highlights of the interview, as well as audio, click here.
More from Sports Radio Interviews
• Tom Brady wanted an official Red Ryder carbine-action, two hundred shot Range Model air rifle with a compass in the stock and a thing which tells time.
• Kerry Wood schmoozed his way into the Cubs job at Ron Santo's funeral.
• Coach K doesn't want your sympathy after Kyrie Irving's injury.