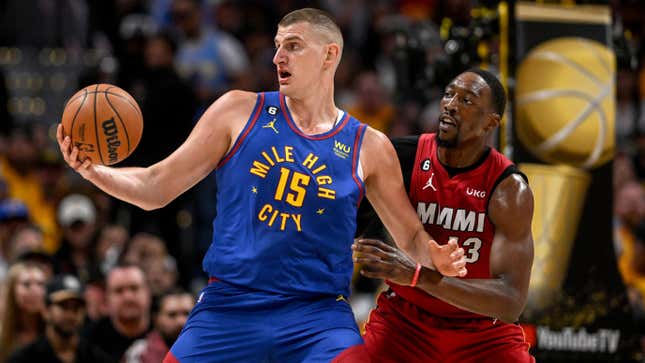 SBNation writer Mat Issa tweeted out an observation following Game 1 of the NBA Finals. He noticed that the Denver Nuggets were able to get a defensive stop because of something that Nikola Jokić did at the free-throw line.

Nikola Jokić is the NBA's Babe Ruth | Keep it a Buck(et)
Kyle Lowry signaled to his Miami Heat what their next play was going to be using a finger gun. He did that prior to Jokić's first free throw attempt. Jokić noticed and, prior to his second attempt, he threw the fingers up past seven feet in the air to let his teammates know what play the Heat were about to run. The Nuggets defended the play perfectly and the result was a Bam Adebayo turnover. A heady play by both Jokić and Issa for their defensive awareness. Both deserve a bump in their 2K rating in that category.
This is why we can't have nice things
Issa tweeted out that Jokić is a genius for calling out that play. The way that Jokić plays basketball in general makes it clear that his intellect regarding his profession is vast. Issa using a specific play and some basketball terminology was a cool way to show that. The 48 hours since Issa sent the tweet, issa reminder that this country still has a problem discussing the basketball greatness of Jokić.
Not only was Damian Lillard critical of the tweet but so was ESPN's Mark Jones, former Dallas Mavericks executive Bob Voulgaris, and many other people with varying degrees of basketball expertise.
This moment harkened back to the discussion that Kendrick Perkins and J.J. Redick had on First Take in March about the MVP award. Perkins implied that there could be some racial bias in Jokić winning two in a row without gaudy scoring numbers. Redick took it as Perkins calling NBA voters racist, George Karl jumped in, and what could have been a fun conversation about the 2023 MVP award became a reductive conversation about institutional racism.
Jokić may not have the the look, but...
I understand that Jokić does not have the look of an NBA great. He is not a dribbling wizard, a thunderous finisher, or an elite shot blocker. The only definition in his arms is when they turn red, and when he grabs the rebound and pushes the pace he certainly doesn't stride like Magic Johnson.
Jokić is unique in look, and also in talent and basketball IQ. No big man has ever been as versatile as him. Bill Walton, Kevin Garnett, Rasheed Wallace, Tim Duncan, Dirk Nowitski, none of them have Jokić's skillset. So when the praise of him reaches a certain height, sometimes people in and around the NBA feel the need to drag it down a notch.
In reality, a compliment of him can go too far is if it's about his traditional athleticism. His running, jumping, and quickness are not elite. All other elements of this basketball game absolutely are. Jokić is an unstoppable force, an immovable object, and also a basketball genius.
Did Issa pick the best play to illustrate that genius? That can be left up to the debate that was still raging on Twitter as of Sunday. The tone of that debate though, Jokić's play on the court is not worthy of such polarization.
It's worthy of adulation that has not yet reached a level that warrants restraint.