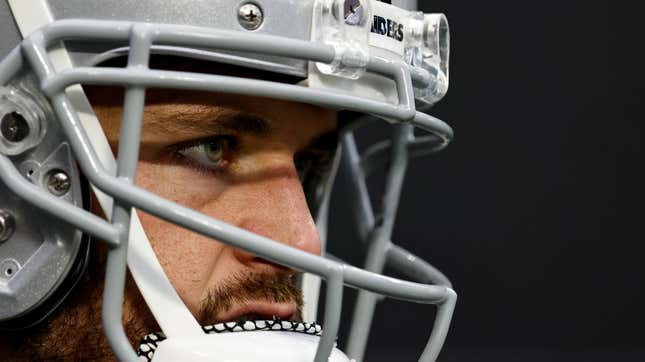 The Las Vegas Raiders' 2022 offseason had fans filled with optimism for the team's future. After acquiring All-Pro receiver Davante Adams from the Green Bay Packers in March, the Raiders signed their franchise quarterback Derek Carr to a three-year extension. The two of them played together in college and anticipated that their connection from those days would remain despite years apart. Their chemistry, combined with the offensive mind of new head coach Josh McDaniels and the addition of outside linebacker Chandler Jones, made the Raiders a dark-horse candidate to win the daunting AFC West. Even with six games scheduled against Justin Herbert, Patrick Mahomes, and Russell Wilson (back when everyone thought he was a difference-maker), there were some folks who believed Vegas could steal the AFC West title.
The season might already be over for these two
HA! Wow! You really thought the Raiders were going to compete this year! You're such a hopeless optimist! Everyone, point and laugh at the delusional Raiders fan!
The Raiders are 6-9, and although there is still a slim chance the Raiders reach the playoffs, they are cutting their losses and turning to backup Jarrett Stidham to carry the team through the remainder of the regular season.

Is Derek Carr on the way out?
Given the rumors surrounding Carr's future with the Raiders prior to the 2022 season, this development has led many fans to believe Carr could be on the move in the upcoming offseason. The Raiders are in a very difficult cash situation. They've got tons of money locked up in Adams, Carr, and McDaniels, and if they truly don't believe they can win with Carr under center anymore, then there's no point in keeping him. Although the Raiders signed Carr to a three-year extension, they did give themselves an out, a three-day window after the Super Bowl where the team could cut Carr and lose only $5 million.

In all likelihood, that's the reason the Raiders are benching Carr for the final two games. If he gets hurt in either of these last two games, the Raiders will owe him $40.4 million over the next two years. If they were going to cut him regardless, this just saves them tons of money.

Carr has long been regarded as an average to slightly above-average quarterback in the NFL. Though he may not be the franchise-altering talent that Matthew Stafford was for the Los Angeles Rams in 2021, he could be someone like Kirk Cousins, who provided stability at the quarterback position for the Minnesota Vikings for several years even if the results weren't as great as the team had hoped. For teams that have been down on their luck the last several years, that stability can't be understated. And who knows? Maybe Carr could be that missing piece that pushes a team over the edge toward the playoffs. But which teams could that be?

Which NFL teams could use Derek Carr?
With such a loaded quarterback class coming up in 2023, any team with a high draft pick would probably take their luck with a comparatively inexpensive rookie to Carr. The Texans are going to draft a quarterback. The Colts, Falcons, Lions, and Panthers are all teams that could be in the market for a young quarterback, all picking before the Raiders as well. They're probably out of the running. Who does that leave?
New York Jets
The first team that comes to mind is the New York Jets. Their quarterback issues have been the talk of the town for much of the season, and with the Jets seemingly over the Zach Wilson experiment, opting for a safer, veteran option at quarterback could be a viable solution. The Jets have a talented receiving corps, a very talented backfield, and a solid O-line. Robert Saleh has proven himself a capable head coach, and Carr's veteran status could be very suitable for a team that lacks a true veteran leader on offense. Sure, they have Joe Flacco, but Flacco can no longer produce at the level Carr can.

With the Jets' tremendous defense, Carr could be a serviceable enough quarterback to carry Gang Green. Saleh, stemming from the Kyle Shanahan tree, could possibly create a similar system that generates an explosive offense without the quarterback needing to do much. Obviously, that doesn't negate the need for a good quarterback (just look at their offense right now), but with Carr getting older, the lack of reliance on mobility, and consistent quick throws could make for a fine coupling while still giving Carr ample opportunity to throw downfield to young guys like Wilson and Moore.

Seattle Seahawks
Other teams that should give Carr a call are the New York Giants and Seattle Seahawks. Starting in Seattle, although both the front office and Geno Smith have expressed interest in an extension, a deal still hasn't been reached. Reports indicate that contract talks between both parties won't start until after the season, but I feel as though we'd have heard more rumors of a deal leading up to the final stretch of the regular season if that were actually the case, which hasn't been so. Should Seattle fail to reach a deal with Smith, Carr would be a fine, if not more expensive replacement. Clearly, head coach Pete Carroll knows how to make the most of his quarterbacks. He did so with Russell Wilson, and he's doing so with Smith.
Perhaps Carr and Carroll is a match made in heaven. Carr would be given the opportunity to play in a weaker division with arguably his best receiving corps since Michael Crabtree and Amari Cooper. The Hawks have a young, up-and-coming O-line and one of the most talented young halfbacks in the league. I haven't even mentioned Noah Fant, who still has the skill set to be a high-end tight end in the NFL. Of course, that all hinges on Seattle's failure to reach a deal with Smith.
New York Giants
As for the Giants, with Andrew Thomas emerging as one of the best tackles in the NFL this year, the Giants could consider putting their money on a pocket passer like Carr. Although Carr wouldn't be offered the same talent at receiver that he has in Vegas, he's had success with the likes of Mack Hollins this year. Say what you will about the Giants' receiving corps, but Darius Slayton is about the same level as Hollins, with more upside as a deep threat.
Carr has also thrived when he's had a consistent run game behind him. Giants' halfback Saquon Barkley has bounced back from injuries early in his career, and would be the best, most explosive backfield pass-catching option Carr has ever had. Carr may not be the talent that Jalen Hurts or Dak Prescott is, but the Giants have hung tough in the crowded NFC East with Daniel Jones at quarterback. I wouldn't be shocked if the Giants stick with Jones moving forward, but the team should at least give the Raiders a call.

New Orleans Saints
There are some other good fits like the New Orleans Saints, Atlanta Falcons, Indianapolis Colts, and Baltimore Ravens (assuming Lamar Jackson doesn't re-sign), but each of them comes with certain caveats that make me question their viabilities as Carr buyers. The Saints are in cap hell and have been for years. Sure, they've consistently found ways to work around those struggles, but Carr's price tag would probably be too much for the team to take on. Furthermore, recent Tom Brady-Sean Payton rumors have begun swirling in Louisiana. I love Carr. I'd much rather have Brady though. If those options present themselves, there's no doubt the Saints would push Carr aside and never look back.

Atlanta Falcons
The Falcons, as I said earlier, have a high draft pick. Even with rookie Desmond Ridder just beginning his career, I wouldn't be shocked to see the Falcons take someone like Will Levis or Anthony Richardson in the top 10. Even if they don't though, the Falcons would likely be more interested in riding with Ridder until a more long-term solution comes along. Carr may be decent in the short term, but given the Falcons' issues everywhere else, Carr wouldn't push the Falcons into playoff relevancy. That's going to make Carr a much less desirable option.

Indianapolis Colts
The Colts have been in quarterback purgatory ever since Luck retired. After Rivers, Wentz, and Ryan all failed to meet expectations, I highly doubt the team would be willing to go after an aging vet once again. They have an early draft pick. They should, by all means, pick a quarterback. Perhaps they could bring Carr in as an insurance policy or mentor for their rookie QB, but with the Colts likely picking in the top five, I'd be shocked if Carr gets a serious shot at becoming a long-term starter in Indy.

Baltimore Ravens
Baltimore would be a nice fit, as anyone would be with John Harbaugh, but I still believe the Lamar Jackson re-signing is inevitable. If by some catastrophe Jackson does not stay with Baltimore, Carr could be an option, but given the Ravens' tendency to place guys like RGIII, Tyler Huntley, and other mobile quarterbacks with similar athleticism to Jackson behind Jackson, I doubt the Ravens would be interested in a slower, more pocket-oriented quarterback like Carr. Of course, the Ravens and John Harbaugh have had success with guys like Joe Flacco in the past, but the team transitioned to their current style of offense in 2019 when Jackson became the starter and promptly blew the league out of the water. The team saw the potential of a high-paced ground-based offense and has been milking that cow ever since. I doubt they'd want to go backward.

Is Derek Carr a Super Bowl-caliber quarterback? Probably not. That said, he's shown signs of being a high-end starter in the past, and as many experts and former players believe, Josh McDaniels isn't doing Carr any favors. Carr is better than he has played in 2022. With the right coaching, perhaps he could re-emerge as a Pro Bowl quarterback with a high football IQ. Maybe that's enough for a team to take a risk on him.

There's also the chance that the Raiders decide to hold onto Carr. After all, the San Francisco 49ers were moving on from Jimmy Garoppolo all the way up until training camp, and he remained on the team. Given the Raiders' money situation, I find it unlikely, but we've seen weirder things happen. Carr isn't done in the league, but his time in Vegas has seemingly come to an end. Here's to a new chapter elsewhere.