Your morning roundup for July 11, the day we canceled our tickets to Rio. Photo taken at St. Joseph's on Capitol Hill, Washington D.C., by Brian J. McLaughlin.
What we watched: We did not expect to find ourselves shrieking at the TV for a missed offside call in women's soccer. That's what happens when you're willing to blindly throw yourself into anything even remotely patriotic. I don't know if it's possible to love one's country too much, but the Women's World Cup is an excellent test. Blind, blissful nationalism had us cursing the referee, finding reasons to hate Brazil as a nation, suddenly learning the intricacies of the rules of the penalty kick. Of course, it didn't really matter that it was soccer. It could have been curling or cricket or competitive eating. Stick an American flag on it, and we'll gladly watch every hour, becoming an expert on the rulebook and history of the sport. Mere jingoism? Maybe, but so what? It's still something real.
Because it's us. Do you refer to your local pro team as "they" or "we?" Hopefully the former, since you've got nothing in common. But in international competitions, the vagaries of time and geophysical boundaries have put the USWNT in the same secret club as you: Club America. And membership confers awesomeness. (Barry Petchesky)
G/O Media may get a commission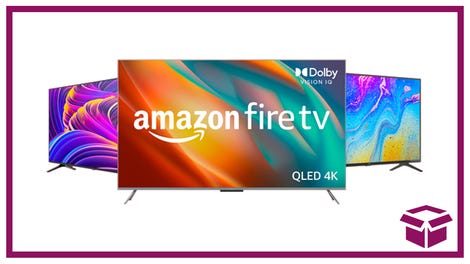 Ooh. stunning.
New Amazon Fire TVs
What we're watching: The long-unanticipated MLB All-Star Break is upon us, and in the National League, apocalypse looms: The Pittsburgh Pirates are a game out of contention. They're 47-43, which marks the team's first winning record at the halfway mark since 1992. Given that history, the City of (otherwise) Champions is cautiously skirting the issue of a thing as terrifying as modest success. "We have a second half to go," said outfielder Andrew McCutchen after the team's 9-1 win over the Cubs on Sunday. "It's early," said the winning pitcher, Paul Maholm. "If you play good baseball, you've got a chance to win," said manager Clint Hurdle. Their reluctancy is smart. At a season marker like this for a team like the Pirates, hedging is an important, careful science. Bartman and Buckner are the only cautionary tales one needs. And if it all comes crashing down after this week's distractions, we'll maintain our innocence along with McCutchen, Maholm, and Hurdle: Regis said it first. (Emma Carmichael)

Elsewhere
Rory McIlroy is a Catholic, and nobody knows it: "In the 2009 interview with London's Daily Telegraph in which he said he would choose to play for Britain in the Olympics, McIlroy noted that he held a British passport and acknowledged that all of this was 'a bit of an awkward question, still.' At one time, that would have been putting it mildly. To many Northern Irish Catholics, such an approach would have seemed traitorous; a siding with the enemy. They chose an Irish passport as a point of principle. Representing Britain would have seemed tantamount to backing a state that they regarded as oppressive. Now, only a very few seem to object to the golfer's approach. McIlroy himself seems to look wryly, and fleetingly, at the questions that took his country to the edge of the abyss and say: No big deal. Which, given Northern Ireland's history, is a very big deal." [New York Times]
Shannon Stone's funeral will be held today: "A funeral is scheduled for Monday, followed by a procession to the cemetery that was expected to include more than 100 fire trucks from across the region. Representatives of the Rangers were planning to attend, too. Brownwood is a town of about 20,000 residents in the Hill Country of central Texas, some 150 miles west of the Rangers' stadium in Arlington. Flags across the area have been at half-staff since Friday, with several wreaths and a dozen yellow roses left in his memory at a monument outside the fire department." [AP]
A-Rod to have knee surgery, hopefully stop saying cliches like this: "'It's hard to get into missing 20, 30, 40 games when you don't know, but at the same time you don't want to limp toward the finish line,' Rodriguez said after not playing in the Yankees' 5-4 win over the Rays on Saturday afternoon at Yankee Stadium. 'The most important games are played at the end.' He had already withdrawn from the 2011 All-Star Game on Tuesday in Phoenix. 'It is what it is,' Rodriguez said. 'Most players play with bumps and bruises, but you never expect it to be a tear. Obviously, it was disappointing.' [ESPN]
A-Rod writes column about Jeter that happens to also include some cliches: "And what makes Derek so extra special is that he has done this all in New York. That makes it bigger. New York is the Harvard of baseball and Derek is straight-A's. He is the gold standard to follow. I thought I understood what he was doing playing across the field. But once I came to New York and recognized all the extra challenges that it brings, then I truly understood Derek's accomplishments." [New York Post]
Spain beats U.S. in Davis Cup, unwittingly does its part to keep Austin weird: "The Davis Cup quarterfinal between the United States and Spain — the first Davis Cup tie ever played in Austin — ended Sunday when Ferrer picked up Spain's third point by beating Mardy Fish in four close sets, in the reverse singles of the three-day competition at the Erwin Center. That left Austin's Andy Roddick without a chance to embellish his reputation as the team's closer; with the quarterfinal's outcome decided, the day's second singles match wasn't played. Spain won for the first time in five tries on U.S. soil, evened its all-time record against the U.S. at 5-5 and moved on to host a semifinal against France in September. Spain is trying to win its third Davis Cup in four years." [American-Statesman]
U.S. beats World despite Bryce Harper being human: "This was the biggest stage Bryce Harper had ever played on, so the 18-year-old dialed up his style and his swagger. He arrived early from the East Coast, obliging the autograph seekers at Sky Harbor Airport. He rented a silver Aston Martin for the week, turning the keys over to his brother when he had to report to the ballpark. At batting practice Sunday, he eschewed his typical, restrained, build-up-to-it routine and swung for the fences from the get-go. But when he stepped into the batter's box in the Futures Game, Harper encountered a new and perhaps disconcerting reality: There are a lot of ridiculously talented pitchers among the top prospects in baseball, and for once, simply being Bryce Harper didn't automatically equate with winning." [Washington Post]
There's another head coach in the Bryant family!: "The Sparks have fired Jennifer Gillom as coach and replaced her with assistant coach Joe Bryant, the team announced Sunday. The coaching change was made after the Sparks fell to fifth place in the six-team Western Conference with a record of 4-6. They have lost five games in a row, their worst skid since 2007... 'I enjoyed working with Jennifer, and it's never easy to replace your friend and respected colleague,' Bryant said in a statement. 'What's most important is the personnel on the floor hasn't changed.'" [LA Times]
That big baseball player back in high school: "'Glory Days' was also the source of an enduring mystery. Who was that speedball pitcher in the song? I finally found out at a reunion we held recently for our Little League's 60th anniversary - not from Springsteen, who did not come, but from Dick Enderly, once a fine schoolboy pitcher, who had put the question to Springsteen at their 30th high school reunion in 1997, and received the answer.
'Joe DePugh,' Enderly told me. 'I got it straight from the horse's mouth.' [NY Times]
We are all Dave McKenna CLII: Here's your daily link to Dave McKenna's brilliant "Cranky Redskins Fan's Guide to Dan Snyder," which we'll be posting every day until Snyder's dumbass libel lawsuit gets caught by Christian Lopez.
RIP to the Great Impostor: "By most accounts, Mr. Bremen's exploits began in 1979, when he managed to sneak onto the floor during pregame warm-ups at the N.B.A. All-Star Game in Detroit, wearing a pilfered team uniform. The athletic, 6-foot-4 Mr. Bremen took several shots before being recognized as an intruder and ejected. The same year, he slipped onto the sidelines during a football game between the Dallas Cowboys and the Washington Redskins game dressed in a custom-made Cowboys cheerleader's outfit and blond wig. (He had dieted and shaved his legs for this one.) The Cowboys kicked him out and sued him but later let the matter go." [New York Times]
Seems more like a thing that might happen to the Mets, though: "Angels designated hitter Bobby Abreu was allowed to take first base on a three-ball count in the third inning of Los Angeles' 4-2 victory over the Mariners on Sunday. Incredibly, the same thing happened to Seattle on July 2 against San Diego. 'That's happened twice,' Seattle ace Felix Hernandez said. 'Only to us.'" [AP]
Tiger Woods to announce thing on channel that no one ever watches: "Tiger Woods will make a 'special announcement' this morning on The Golf Channel, it was reported Sunday. Woods, who has not played since The Players Championship in May because of injuries, will make the announcement at 11 a.m. ET in an interview with network host Kelly Tilghman, Yahoo! Sports and NBC Sports reported." [Sporting News]
Awful Announcing's Joe Morgan replacement tournament continues: Today, Steven A. Smith-Stuart Scott and Matt Millen-John Sterling are on the ballot for the right to Mt. Rushmore. Go vote. [Smith-Scott, Oakland Press]
Shaq to out-Chuck Chuck for TNT: "The hottest made-for-TV free agent to hit the open market since Charles Barkley retired in 2000 has apparently hooked up with his new team. The recently retired Shaquille O'Neal(notes), according to CNBC's Darren Rovell, will be working for Turner Broadcasting — likely sitting across the table from Sir Charles on TNT's 'Inside the NBA' set. [Ball Don't Lie]
Voice of the dead: "Sheppard said in the interview with CBS News of the introduction, 'It makes me feel as if my voice is still there, that much. At least it's a memory that's carried out until he retires, and the two of us will go off into the sunlight on horseback. John Wayne, Bob Sheppard, Derek Jeter. On a horse. A white horse, OK? Got a white horse for me?' And he laughed.
" [Obit Mag]