Time (again) to picture what it would be like to be the next owner of Derek Jeter's apartment, where he's lived for the last 11 years.
Jeter has been trying to unload his Trump World Tower penthouse, beside the United Nations, for two years now. His original asking price was $20 million. Despite an exhaustive before-and-after slideshow from Business Insider, nobody was willing to meet it.
So now Jeter has finally slashed the price to $17.95 million. The news was announced in today's New York Post, alongside a new batch of sleek pics.
What does Jeter's penthouse include? Per the Post:
The 5,425-square-foot captain's quarters boasts 360-degree views of Manhattan, four bedrooms, 5 1/2 baths, an eat-in kitchen and a fireplace.

The ladies' man's lair has ultra-suede wallpaper covering the 16-foot-high walls. There's a pool table, a poker table that seats eight, a dining-room table with room for 14, and even an old-school bar tabletop Pac-Man game.
G/O Media may get a commission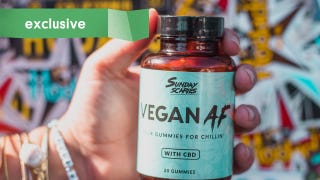 Vegan AF CBD Gummies for Chillin'
Sounds tasteful. But speaking of unimaginably cumbersome financial obligations, what about Alex Rodriguez? How does this East Side penthouse compare to A-Rod's old apartment on the West Side at the Rushmore?
In the taste department, it's hard to side with Trump's United Nations monstrosity, but….at least it isn't a vulgar floor-to-wall-to-ceiling white mess? And Jeter's 5,425 square feet devours A-Rod's roughly 3,500, (with enough room left over for a couple of big one-bedroom apartments for normal people). A-Rod's views: the Hudson and New Jersey. Jeter's? A lot better.
If New York real estate were merely for living in, Jeter would be the winner. But in the department that counts, A-Rod is beating Jeter handily. The third baseman bought his Rushmore condo for $5.5 million, and ruthlessly flipped it, less than a year later, for $8 million. That's a 45 percent increase.
Jeter, meanwhile, originally bought his place for $12.6 million. If he finds a buyer at his new, reduced asking price, he'll have gained 42 percent. That's only a little inferior to A-Rod—except it will have taken Jeter more than 10 times as long to get that return. In four years, if A-Rod keeps flipping, he can buy Jeter's place with his profits.