Your morning roundup for Feb. 21, the day we swear off coffee.
•In a shootout that got close toward the end, the West prevailed 148-143 part in thanks to Chris Bosh chucking threes and missing rebounds like a Bosh. Kobe took MVP (fan voting in LA? Sure.) despite LeBron putting up a triple-double. But to be fair, in an All-Star Game, at least 20, 10 and 5 of his 29-12-10 line came from being the only person on the court to semi-give a shit.
•Perhaps the real MVP: Doc Rivers. Miami's Big Three get 73 minutes including a tweaked ankle for Wade, while the four Celtics combine for 57. Equally sneaky: Greg Popovich playing Kobe and Pau for 53 minutes, but kept Duncan and Manu in for just 33.
•The Nets finally met with Carmelo. The Knicks have made their final offer (which might hinge on the inclusion of Timofey Mozgov). Seriously, only a couple more days of us having to talk about this.
•Despite Carey Price's mask tribute to Jacques Plante — complete with Plante's eyes, ears and mouth — it was the Flames shutting out the Habs in the Heritage Classic. Now both teams can carry on the Canadian heritage of not winning the Stanley Cup.
•Trevor Bayne, easily the youngest Daytona 500 winner at 20 years and one day, managed to survive while everyone smashed up around him, and took the checkered flag in overtime. Sportswriters the world over thrill at the chance to break out the old "too young to drink the champagne" line.
G/O Media may get a commission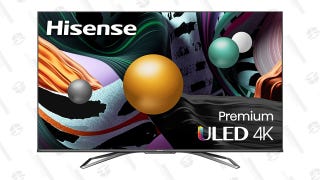 Save $350
Hisense ULED 65" Android 4K HDR Smart TV
•Who'll be the next No. 1? Not Ohio State, after their second loss in three games, this time at Purdue. Oh god. It's going to be Duke again, isn't it?
•David Stern says he'll work for free if there's a work stoppage. Nice try, but we still can't care about anything but the NFL just yet.
•Here's a goalie getting his ankles broken in the Asian Champions League. Take that, guy from I'm not even sure which team, let alone which country.
•••••
Let's make this week a good one.