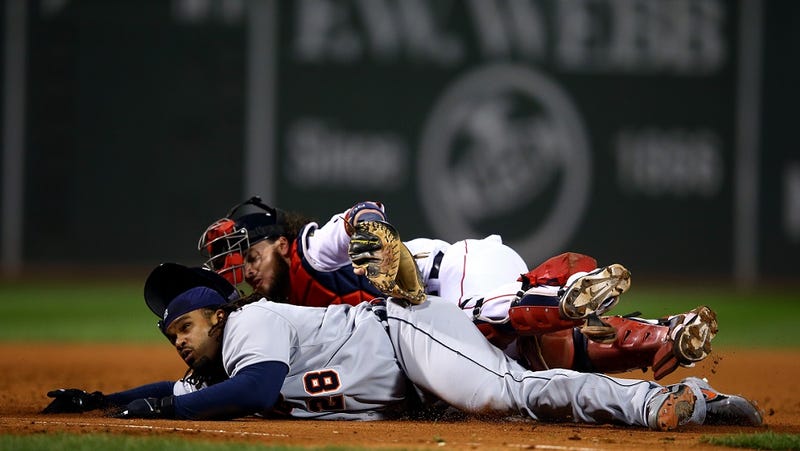 Everyone is now reporting that the Tigers have traded slugger first baseman (and, didjaknow, baseball's reigning Iron Man?) Prince Fielder to the Rangers for second baseman Ian Kinsler.
Texas gets a proven, hard-swinging commodity in Fielder (career line .286/.389./.527, 2013 line .279/.362/.457) while Detroit clears a net of $76 million off its books while pocketing sending along a reported $30 million in cash. The Tigers get what baseball writers euphemistically call "financial flexibility," but it really means that with limited funds, Detroit would probably make a fat offer to its reigning Cy Young winner, Max Scherzer, in the final year before his free agency, than keep paying Fielder what he's earning, even if he is indeed earning it.
Kinsler's no slouch — he hit 13 home runs and batted .277 last year — but he's not Fielder. The Rangers presumably don't mind paying extra for another slab of lumber in the middle of their lineup, not when they're dimming after losing two World Series, then losing the 2012 Wild Card game and, this season, just missing the playoffs.
In Detroit, two-time reigning American League MVP Miguel Cabrera's likely going to take Fielder's spot at first, to get Kinsler onto the field. Meanwhile Texas may just keep on wheeling. ESPN's David Schoenfield, for one, thinks this deal makes the Rangers the frontrunner to land Robinson Cano once the Yankees make it absolutely clear that even they don't have $300 million just lying around.
Fielder for Kinsler blockbuster is agreed to [CBSSports.com]