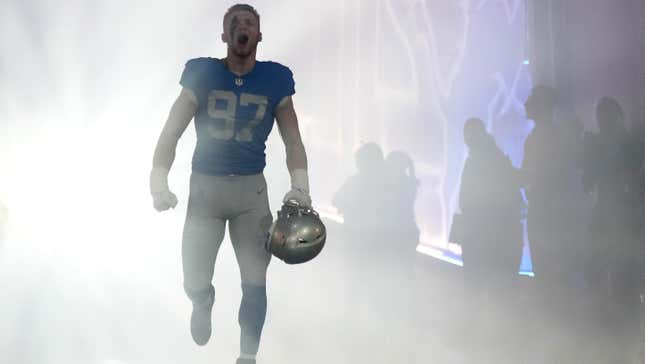 If you wanted to place a wager on the NFL's Defensive Rookie of the Year Award right now, you'd be a fool to bet on anyone other than New York Jets cornerback Ahmad "Sauce" Gardner. According to Sports Betting Dime, the fourth overall pick has -1200 odds to win the award. That's an implied 92.31 percent chance — practically a lock. The next-closest competitor is Detroit edge rusher and second overall pick, Aidan Hutchinson, at +800 odds, or an 11.11 percent chance.

The season might already be over for these two
Don't think too hard about how those two numbers add up to more than 100 percent, that's just how odds work. The fact of the matter is that despite Hutchinson's very solid season, he's pretty much not being considered for the Defensive Rookie of the Year Award. Well, I find that ridiculous. While he may not deserve the award over Gardner, there is plenty of reason to believe Hutchinson has a shot at winning, despite what Jets fans might try to convince you.

The argument for Sauce Gardner
I'm going to start this Hutchinson defense by offering the best argument for Gardner as DROY. Gardner is the highest-graded cornerback in coverage by Pro Football Focus, but if you're more of a raw stats guy, Gardner still stands head and shoulders above every other cornerback in the NFL this year. The best things a cornerback can do are allow very few passing yards and force incompletions. Gardner leads the NFL in forced incompletions (19) and, of all cornerbacks with at least 350 coverage snaps this year, Gardner ranks third in yards allowed (302).
Gardner has played 618 coverage snaps this season. The two people ahead of him in yardage — Kansas City's Trent McDuffie and New Orleans' Alontae Taylor — have played just 376 and 350 snaps respectively. Essentially, of every starting corner in the league, Gardner is the leader in the two most important categories. Furthermore, his presence has been felt, as Gardner ranks eighth in the league in snaps per target (8.5), meaning quarterbacks have realized how good he is and often refuse to throw his direction.

Why Aidan Hutchinson deserves consideration
That last tidbit is what Gardner defenders love to lean into when discussing Gardner's impact, and yes, that's impressive. Yet, Hutchinson could make a similar argument. According to ESPN's Seth Walder, Hutchinson gets double-teamed at the second-highest rate in the NFL, behind only Cleveland's Myles Garrett. As a rookie, teams are making an effort to ensure Hutchinson faces multiple offensive linemen. That's the pass-rushing equivalent of Gardner facing fewer targets as his reputation has increased.

You could make the argument that due to the lack of talent surrounding Hutchinson on the Lions' defensive line, teams feel comfortable doubling Hutchinson more, and that it's less about his reputation than it is about blocking efficiency. I could, in turn though, make the same argument about Gardner. Maybe teams aren't throwing at Gardner because his teammates in that Jets' secondary are subpar. Yes, I know DJ Reed and Michael Carter II are solid, but Alim McNeill and Isaiah Buggs have both been solid interior pass rushers for Detroit and Hutchinson still gets double-teamed. Hell, Hutchinson isn't even Detroit's rookie leader in sacks. That title belongs to sixth-round pick James Houston, who has eight sacks in just six games. A lot of that success can be pinned on Hutchinson's presence opening up alleys for Houston. Perhaps if he'd played the whole season, he'd be the favorite for DROY, but unfortunately, that's not the case.

Pass rushing aside, Hutchinson has also been a factor in coverage. His three interceptions are tied for the third-most among rookies, while garnering 6.5 more sacks than anyone else with at least two. He can rush, he can drop back. He's a coverage scheme nightmare.

Furthermore, Gardner hasn't had the iconic award-worthy plays that Hutchinson has. That goal-line TFL he had at Soldier Field in Week 10, coming across the entire formation to make a diving stop right at the end of the first half...incredible. Earning three sacks in just his second career game to earn the Lions their first victory of the season? Remarkable. Gardner doesn't have those defining moments, which can likely be attributed to him playing a position that doesn't get as much action as an edge rusher does. I'm not saying Gardner hasn't made any big plays, he has made a multitude of phenomenal, touchdown-saving plays, but he hasn't made those plays at the most clutch moments. His highlights haven't gotten the viral attention that some of Hutchinson's best plays have.

Gardner undoubtedly deserves Defensive Rookie of the Year this season. I'm not trying to say he doesn't deserve the hardware, but I feel Hutchinson's phenomenal season has unfortunately been overshadowed. Gardner's incredible play has shined a light on all rookie cornerbacks, and that's given Seattle's Tariq Woolen some much-deserved attention I doubt he would've received otherwise, but it's also taken attention away from other deserving rookies like Hutchinson. If I was given a vote for DROY, I'd vote Gardner, but that doesn't mean Gardner was undoubtedly the best defensive rookie this season. There's an argument to be made for Hutch, and I'm just trying to point them out.