This might go down as my favorite sequence of the 2014 baseball season.
In the bottom of the sixth inning of last night's game between the Brewers and Diamondbacks, Brewers starter Kyle Lohse threw two wild pitches near the heads of two Diamondbacks hitters. Based on Lohse's reactions, it was pretty clear that neither pitch was intentionally placed—particularly the second one, a breaking ball that slipped. That didn't stop the Diamondbacks from retaliating.
During the next half inning, with the Diamondbacks barely holding onto a 4-3 lead and men on second and third, Evan Marshall threw a fastball behind Ryan Braun before hitting the slugger in the ass with his very next pitch. Marshall was ejected, and Brad Ziegler came on to face Jonathan Lucroy. The next pitch was promptly crushed for a grand slam. 7-4, Brewers.
The best part of all if this is that right before Lucroy's bomb, the broadcast showed Grit Lord Kirk Gibson and the Diamondbacks dugout lavishing praise on Marshall for beaning Ryan Braun in the name of baseball's stupid unwritten rules:
G/O Media may get a commission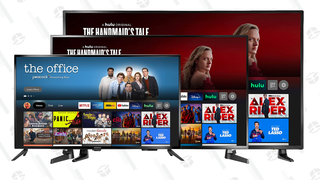 Up to 44% off
Prime Early Access - Insignia Fire TVs
Giving Braun a free base didn't swing the game—the Brewers would go on to win 7-5, and he probably should have been walked anyway in order to set up a double play—so the punishment dished out by Lucroy was more spiritual than literal, but man was it enjoyable. It was just a few months ago that Diamondbacks GM Kevin Towers was threatening to cut some of his pitchers if they weren't willing to throw at people. Looks like that threat was taken seriously.
The Diamondbacks are currently 30-44 and 15.5 games back of first place in the NL West.