Brewers pitcher Adrian Houser barfing on the mound earlier this month was gross, but Diamondbacks reliever Archie Bradley has his own bodily-substance story to contribute to the discourse. On the Yahoo Sports MLB Podcast, Bradley courageously confessed to shitting his pants immediately prior to a relief appearance this season. "It was the most uncomfortable I've ever been on the mound," Bradley said.
The pitcher, to his credit, barely hesitated before he launched into the story. All it took was, "What is the most memorably awkward moment you've had?" Here's the excerpt:
And here's a transcript:
"I was warming up to go in a game, and I knew I had the next hitter. I knew he was on deck. And the at-bat was kinda taking a little bit, and as a bullpen guy in these big situations, I call them nervous pees. I don't have to pee a lot, but I know I have to pee before I go in the game. I can't believe I'm telling you this. [Laughs]


"It's a 2-2 count, and I'm like, 'Man, I have to pee. I have to go pee.' So I run in our bathroom real quick, I'm ready to go. And I'm trying to pee and I actually shit my pants. Like right before I'm about to go in the game, I pooped my pants. I'm like, 'Oh my gosh.' Like, I know I'm a pitch away from going in the game, so I'm scrambling to clean myself up. I get it cleaned up the best I can, button my pants up, and our bullpen coach Mike Fetters says, 'Hey, you're in the game.' So I'm jogging into the game to pitch with poop in my pants, essentially.
G/O Media may get a commission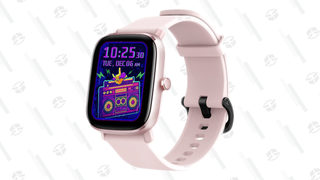 20% Off
Amazfit GTS 2 Mini Smart Watch
Get fit
Has built-in Alexa so you can ask questions and carry your smart assistant around with you; it has a battery that can last up to 14 days, has over 70 different sport modes, is 5ATM waterproof, and tracks stats like your heart rate, calories burned, sleep, and more.
Bradley, who was wearing his home white pants, seems to have cleaned himself well enough, because his teammates didn't even believe him at first.
"I actually told my teammates, I stepped out of the bathroom, I was like, 'Hey, am I OK? I just shit myself,'" Bradley said. "And they didn't believe me until they unfortunately saw the mess in the bathroom, because I didn't have time, I was like, 'I gotta go in the game.'"
This story has an inspiring ending: Bradley went out and pitched a self-described "clean" inning with shit in his pants.
But this anecdote raises questions—specifically, when did this feat actually happen? Bradley's had 38 appearances this year, so figuring out which exact game he's talking about is a difficult task. The best guess is that the shit went down on May 5 against the Astros. Photographic evidence from that appearance is inconclusive, but it does fit all the criteria: a home game in which Bradley didn't give up any runs and entered in the middle of an inning, following a long at-bat with a 2-2 count at one point.
The D-Backs' decision to send Bradley back to the mound for another inning after he got his out reads a little cruel if this is, in fact, Bradley's shit-pants game. However, the ejection Bradley later caught in the ninth from the dugout feels like the perfect cover story for him to retreat early to the locker room so he could clean himself off and change his pants. Whenever it happened, throwing heat on the mound with heat in your pants is nonetheless impressive.