According to the filthy minds at Busted Coverage, a young woman from Scituate, Mass. recently tweeted thusly about a Gronkquest:
I just hooked up with gronks brother and [my friend] hookedup with gronk ..... life complete
[@an incredulous follower] yuppppppp we got proof
After the Gronkquest, the friend also posted on Twitter: "Literally on cloud 9." Alas, the Gronk-snogging friend is 16! We know this for sure because the Gronk-brother-hooker-upper not so long ago posted a photo of her friend's ID on Twitter. Kids these days.
Anyway, whatever happened wasn't illegal—the age of consent in Aruba is 16, and of course "hooking up" doesn't mean there was any sex, and of course the miss might have been exaggerating in mentioning "hooking up," because all the photo evidence we have is a cheek kiss. But, if anything did happen: Gross, Gronk.
Gronk "Hooking Up," Getting Kissed By 16-Year-Old In Aruba? [PHOTOS] [Busted Coverage]
Image from Busted Coverage.
SEE ALSO:Rob Gronkowski's Offseason Is Becoming One Giant Swig From A Beer Bong
More Rob Gronkowski At Spring Break: Still Wearing Zubaz, Still Drinking, Still On Crutches
Rob Gronkowski's Public Relations Team's Official Response To Our Spring Break Photos And That Story About The 16-Year-Old
G/O Media may get a commission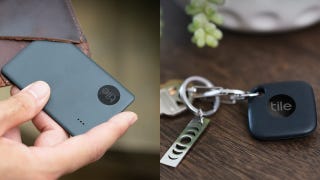 Up to 35% off
Tile Item Trackers