We can thank our friends at Awful Announcing for this latest head-scratcher from ESPN. Yesterday, ESPNSoccernet published an interview Nick Bidwell ostensibly had with Lukas Podolski, a German soccer player. As you can see, if you click the link, that article is no longer available.
The best sports movies according to Toheeb Jimoh
Yesterday afternoon, Awful Announcing put up a piece claiming that Podolski said the interview was made up. Podolski evidently took to Twitter and facebook to say that he never even gave the interview to Bidwell.
"Hey guys, on the ESPN website there is an interview published I never gave. It contains parts, which are completely made up. Please ignore it! Cheers, Poldi"
Shortly after publishing its article, Awful Announcing claims the Soccernet article was scrubbed from the site. Strange, as it had been "featured prominently on the ESPNSoccernet homepage." The article has yet to be replaced.
Minus the removal of the article, this tends to happen a lot. Celebrities, athletes, politicians—whomever—often don't like the way they come off in articles and say they were misquoted or that they never said those things that they said. But there's that whole removal of the article thing. That is pretty strange, indeed and only makes things worse.
G/O Media may get a commission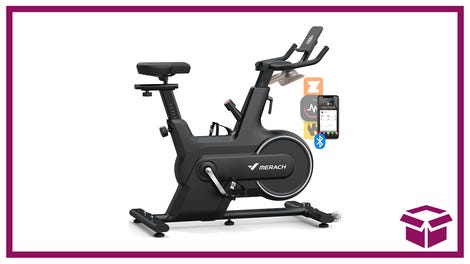 14% off + Coupon
Merach Indoor Cycling Bike
Was the whole article fiction? Were only portions of the interview made up? Is Podolski himself making things up? If you have a full version of the interview before it was removed, drop us a line.
Update 12:39 p.m.: Via reader Peter, here is the full text (without accompanying pictures):
Lukas Podolski believed he was joining Arsenal to play alongside Robin van Persie rather than to step in as a replacement for the unsettled club captain, yet the Germany international insists the Dutchman's expected departure has not dampened his enthusiasm for his move to North London.

Lukas Podolski
AssociatedLukas Podolski is looking to make his mark in England

With over 100 international caps to his credit, Podolski is arriving in the Premier League as a performer with huge experience to call upon and yet, at the age of 27, many in his homeland suggest he still has much to prove after indifferent performances for club and country in recent times.

As he sits down with ESPN's Nick Bidwell following his switch to Arsenal, it is clear that Podolski's determination to succeed remains as strong as ever.

You must be disappointed to hear that Robin van Persie will not be renewing his contract with Arsenal. What is your reaction to this news?

All I can say is Van Persie had an amazing record last season and hopefully there is a way he can stay with Arsenal. It would be great to play with him, but obviously this is not in my control.

Your new boss Arsene Wenger came under fire at times last season as he oversaw a seventh successive campaign without a trophy. Was that criticism fair?

I don't think so. He has a record getting Arsenal into the Champions League every season and his reputation in Germany and all over Europe is very strong. What I like about him is his passion for attacking football. He aims to play with style and flair all the time. Those are his principles and he'll never compromise on them. Some people are disappointed with him, but they need to realise what a great coach they have.

Arsenal have lost some big players in recent years but Wenger has remained in place. Do you see him as the main man at this club?

Of course. Mr Wenger could have moved on to another club, I am sure, but instead chose to stay and build something over the long term. He lives and dies by his own ideas and Arsenal is his baby. His reputation has been built on improving players and if he can help me take my game up a notch or two I'll be delighted. Back home in Germany, football people think very highly of Arsene Wenger. They listen to what he has to say and admire his achievements.

Arsenal have not won a trophy for seven years, so is the priority next season to end that drought or secure another top-four finish?

We have to try and achieve both. Arsenal have a quality squad and they should not aim to finish behind the rest or just settle for top four. Champions League football is the minimum requirement at Arsenal, but we should aim higher. For me, we have as good a chance as anyone in the Premier League. The key will be to start well and, unlike Manchester City or United, there will not be as much pressure on us.

You struggled to make the step up in class after joining Bayern Munich back in 2006, so why do you believe it can work out better for you this time?

I'm not one to look back and say "if only", but maybe I was too young to do myself justice at a leading club like Bayern. Now it's a different story. I'm older, wiser and more mature. I have 100 caps for Germany and have seen so much more in this game. I can't wait to get started in the Premier League.

Expectations were limited at your previous club Cologne, but they will be massive at Arsenal next season. Can you handle the pressure?

To my mind there's a lot more pressure when you are with a club fighting for its life. The fear gets to you and you find it hard to express yourself. I have seen it where players are frightened of making mistakes and this is never a good place to reach. There will be big expectations at Arsenal but, like with Germany, it's more a case of looking to keep high standards than feeling up against it.

Was it hard for you to walk away from Cologne?

Lukas Podolski
PA PhotosLukas Podolski has spent the majority of his career with Cologne

Cologne are the club of my heart. How could it be any other way when I've spent 14 years of my life there. They will always be special to me and it was a real wrench to tear myself away. Hopefully one day I'll return to Cologne, but I just felt that, at the age of 27, I'd come to a crossroads in my career. The time was right for something new. With all respect to Cologne, they couldn't offer me the Champions League and I wanted to test myself again at a top European club. Arsenal fit the bill in every way.

Is the Premier League a step up in quality from the Bundesliga?

There is more competition in the Premier League than in Germany. I can think of at least eight or nine really competitive sides in England, teams who could go into the Champions League and make an impact. This means every week is a test and the fight for Champions League places seems to be getting fiercer.

There has been plenty of debate about what position you may play at Arsenal. It may depend a little on what happens to Van Persie, but where do you see your best position?

I can play up front on my own, as a second striker or push forward on the left side of midfield. So long as I am playing with adventure, get into position to score goals and give my all to the team then I can be satisfied. That's why I'm pleased to hear people suggest my defensive work has improved over the years. I have worked hard on this area of my game.

There is talk in Germany that, despite your century of international caps, your time as a regular in the national team could be coming to an end. How do you respond to this?

I don't give up easily. I'll carry on fighting for a regular spot with the national team. I'm not finished yet and even if I am sent to the bench it will not be the end of the world. As part of the squad you can still make a contribution. It's not my style to kick up a fuss. We have a great generation of young players coming through and this means more competition. It is not a problem for me and I want to be a part of Germany's future.
German soccer star Lukas Podolski claims ESPN made up interview [Awful Announcing]