Your morning roundup for Sept. 25, the day Catwoman got real. Got any stories or photos for us? Tip your editors. (Video H/T Casey)
What we're watching: Why, the Eagles/Giants game, of course. In person. Which is nice. Sickens me in a way that, this week, despite an inherent unease with the nature of NFL head injuries, I found myself thinking I'd have been bummed if Michael Vick had to sit it out. The attempted justification: The way he got hurt against Atlanta last week, it didn't look like a concussion. It looked like a neck and a bit tongue from the vantage point of a 42-inch HD TV viewed with weary eyes.
That was pretend thinking. And it was the wrong way to be thinking. Hypocritical, at best. No better than James Harrison, at worst. Irresponsible, selfish and evidence of the NFL-industrial complex's mind-control prowess, at its most accurate. But it is what it shamefully was and Michael Vick is playing, which makes ticketholders like me happy. It also makes it easy for ticketholders like me to project the queasy indecency from self onto a division foe and morally bankrupt fanbase that will probably take/hope for shots to injure the guy. If they don't, the Eagles win by 20. And they won't, because Michael's on the side of the righteous. There, I feel better already.
Go Birds.
Elsewhere
LSU, lookin' tough: "Though the Tigers looked vulnerable for the first time - letting a 27-7 cushion shrink to 27-21 briefly late in the third quarter before pulling away - LSU put away the Mountaineers (3-1) just as it did No. 25 Mississippi State nine days earlier, outmanned Northwestern State five days before that, and preseason No. 3 Oregon in the Sept. 3 season opener." [The Advocate]
G/O Media may get a commission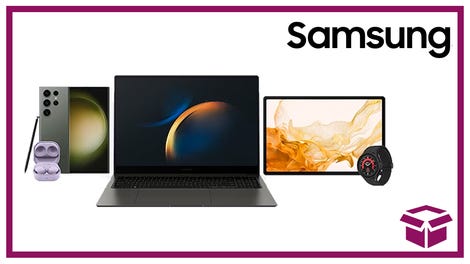 24 hour deals
Discover Samsung - Daily Deal
The Red Sox wild-card lead shrinks to 1.5 games: "Derek Jeter capped a six-run second inning with a three-run homer, rookie Jesus Montero had four RBIs in finishing a triple shy of the cycle and the New York Yankees stunned the reeling Red Sox early in a 9-1 victory Saturday. Boston dropped to 4-15 since holding a nine-game lead over the Rays in the AL wild-card race heading into play Sept. 4. Tampa Bay closed within 1 1-2 games of Boston with a 6-2 win over Toronto." [AP]
The Braves have a two-game wild-card lead with four to play: "Brandon Beachy struck out seven of the first 11 Washington Nationals batters Saturday, then pitched a fourth inning as if he were a Porsche speeding from smooth pavement onto a washboard road. The Braves rookie gave up three runs in the fourth on three hits, two walks and two wild pitches. The rest of the afternoon was just details in a 4-1 Braves loss at Nationals Park, which cut the Braves' wild-card lead to two games over St. Louis with four to play." [Atlanta Journal Constitution]
Perhaps the Phillies just don't want to win 100 games: "With four regular-season games remaining before Saturday's start of the National League division series at Citizens Bank Park, the Phillies are running out of time in their attempt to crank up the offense, which managed a grand total of three earned runs in a sweep by the Mets, 2-1 and 6-3, of a day/night doubleheader on Saturday at Citi Field." [Philadelphia Inquirer]
Your Dancing Penguins Interlude:
Here's an MMA link featuring video of an interview with Steven Seagal: "Jon Jones said leading up to UFC 135 that he wanted to be the first man to finish Rampage Jackson in the UFC. Jones accomplished that goal, forcing Jackson to tap out in the fourth round of an outstanding light heavyweight title fight, and demonstrating once again that he's one of the best and most exciting fighters in MMA." [MMA Fighting]
Messi's hat trick was better than Ronaldo's yesterday*: "Lionel Messi and Cristiano Ronaldo each scored his second hat trick of the season, leading Barcelona and Real Madrid to victories in the Spanish league on Saturday night following draws in midweek." [AP] (*Two of Ronaldo's goals, which you should be able to see here, came on penalty kicks.)
Today's Soccer Viewing Recommendations: Catania vs. Juventus (Fox Soccer Channel, started at 9 a.m.). QPR vs. Aston Villa (FSC, 11 a.m.). Werder Bremen vs. Hertha Berlin (GolTV, 11:30 a.m.).
Merch: Managing editor Tom Scocca and contributing editor Drew Magary have both written books. You can buy Scocca's Beijing Welcomes You: Unveiling the Capital City of the Future here, and Magary's The Postmortal here. Now do it.