That's certainly what Philadelphia Daily News reporter Bob Cooney implies, but won't say outright, in a new piece on Joel Embiid's injured right foot.
On June 13, the 76ers said there was "less healing than anticipated at this point" in Embiid's right foot. On July 11 they repeated that line, and revealed that Embiid would have another surgery on the foot, and likely miss the upcoming season. But Cooney's report questions the idea that there was "less healing than anticipated." He says that Embiid re-broke the navicular bone in his foot, the same injury that kept him out of the entirety of his rookie season. That's a pretty curious definition of "less healing than anticipated," if Embiid did indeed (re)break the navicular bone.
This isn't the only statement from the 76ers that Cooney questions. He writes that on July 9—just two days before the team announced that Embiid would have surgery on his foot—GM Sam Hinkie didn't mention anything about surgery to reporters questioning him about Embiid's health, and said he'd give an update soon. Yet Jahlil Okafor later told The Philadelphia Inquirer reporter Keith Pompey that he had known about Embiid's surgery for "a couple of weeks."
Finally, nobody seems to know when the reported re-break occurred, and what activity Embiid is or isn't allowed to undertake. Cooney writes that until June 13 was practicing full bore, and after the announcement of "less healing than anticipated" he was still taking flat-footed shots at the team's practice facility, and wasn't wearing a boot nor limping. And last week in Las Vegas, after the announcement of his season-ending surgery, Embiid was spotted running "up the steps at the Thomas and Mack Center toward the concourse level."
When reports about whether a guy ran or walked up some steps and what protective footwear he was or wasn't wearing while doing so becomes relevant, you can be assured we're through the looking glass.
G/O Media may get a commission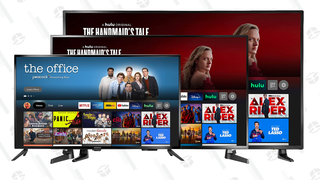 Up to 44% off
Prime Early Access - Insignia Fire TVs
If the 76ers understood the specifics of Embiid's injury but sought to obfuscate them in public statements and in conversations with the press, all I can say is that they are even dumber than I thought. Considering the amount of people that know the details of his injury—the front office, the coaching staff, the training staff, a number of independent doctors, Embiid, his agent, his family, and whoever any of these people told—the chances of this specific lie not getting outed was close to zero. And when there is already a healthy distrust that your team is conducting itself on the level (the 76ers were fined $3 million for not fully disclosing the extent of Jrue Holiday's injury when trading him to the Pelicans in 2013), furthering that reputation is a very bad idea.
Teams lying about injuries is nothing new, but usually they do so for some sort of competitive advantage. Considering Embiid was over four months from playing in a game when the team announced they would reevaluate his foot, it's hard to understand what advantage they gained. Instead, it looks another move that prioritizes public relations for an organization that seemingly cares more about PR than putting a functioning basketball team on the court.
h/t Demetri
---
E-mail or gchat the author: kevin.draper@deadspin.com | PGP key + fingerprint