Remember this past summer, when Chelsea were reportedly sniffing around every big-name striker out there in an effort to find a replacement for the once-feared, maybe-fallen (and possibly fat?) Diego Costa, who just a couple season ago looked like a legit (and arguably literal) world-beater? And when there was a serious question about whether the 2014-15 Premier League Player of the Season, Eden Hazard, could regain the pomp and flair he displayed at his apex or whether it would become evident that his real level was closer to the good-but-not-great (and possibly fat?) version that showed up last season? And when Chelsea as a whole, fresh off an unmitigated disaster of a season, led by a talented and experienced but new manager, hoped that in the best case scenario this band of teammates could coalesce around each other in the new coach's tactics and maybe slip their way into fourth place by the end of the season? All of that seems like so long ago, doesn't it?

What a difference a few months make. Costa is the Premier League's leading scorer with 14 goals in 18 matches, numbers that already best his goal return from all 28 league matches he played last season. Hazard, too, is among the EPL's top 10 goal scorers, scoring nine times—more than twice as many goals as he nabbed last year while hitting the back of the net at the highest rate (0.4 non-penalty goals per 90 minutes) of his career. Chelsea sit atop the table on a 13-match winning streak, five points clear of second place with a game in hand, and 10 points above the team in fifth. Forget hoping for a Champions League place; the Blues are strong favorites for the title.
How did we get here? The simplest answer is that Chelsea's great players started playing great soccer again. The key man has been Costa. There's never been a question about the ability of a healthy, in-shape, motivated Costa to score goals. His problems during last season, when he didn't look very good at all, were mostly a combination of those factors (literally) weighing on him. Costa didn't seem to respond to old Blues boss José Mourinho's motivational tactics, admitted that he showed up during the off season out of shape and had to thus started the season behind schedule, and again was rumored to be unsettled in England and looking for a move back to the club where he made his name, Spain's Atlético Madrid.
With Mourinho gone and Atlético no longer a realistic option to rescue him from a life of fish and chips and bad teeth, Costa has appeared reenergized. He's back to bulldozing over defenders and smashing the ball into the net, only now doing so with a smidgen less of the reckless fury that often got him in trouble.
Costa is widely thought of as a basic poacher, and it is his sense for standing right where the ball will eventually end up that makes him such a great scorer. But that label also underrates the breadth of his skills. He is a tireless worker, always sprinting around both in attack and when defending; he is a very good target man, capable of fighting off big center backs to trap long passes forward before zipping the ball off to a midfielder or winger; his ability to turn in the tiniest pockets of space is nearly unrivaled; and he is pretty good at playing defense-splitting passes, too. Because he's not a flashy dribbler, it's easy to look at his game and think of him as something of a throwback to a time when center forwards just scored goals. In reality, he is a player with a wide range of abilities, and for that reason is a great, complete modern striker.
G/O Media may get a commission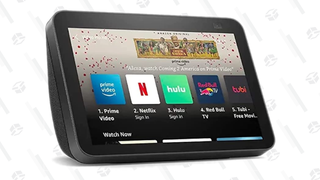 After a dip in performances and progression last season, Hazard too has reemerged right along the growth curve he had been on in years prior, the one that had most everyone placing the Belgian winger in that select subset of great players just behind Messi and Ronaldo, with a real chance to break into that uppermost of echelons in the future.
The one thing that's historically prevented Hazard from being one of the sport's very best players has been his lack of production in terms of goals. He's always scored a good amount (figures usually boosted by penalties) but his stats on that end look more like those of Juan Mata—a very good player who nonetheless would never be considered one of the 10 best in the world—than of Arjen Robben. And as we've seen, the best forwards of this era are the ones who score a lot.
This season has been different. Hazard has been liberated from much of the positional and defensive constraints placed on him under Mourinho and is now allowed free roam within Antonio Conte's tactics. Not only that, the move to the 3-4-3 formation has positioned Hazard further forward and a bit more centrally than before. With this freedom of movement and proximity to goal, Hazard has become the most deadly version of himself we've yet seen, evidenced by his improved goal stats. Managers have tinkered with the idea of playing Hazard more centrally from time to time in order to get more out of him, but it's never really taken before. Now, Hazard is regularly causing havoc from his closer-to-goal wing position, and even dominated the game against Bournemouth on Boxing Day playing as a false nine. This is the best he's ever played.
Of course, Costa and Hazard aren't the only Chelsea players thriving. Victor Moses looks like a whole new player as an all-action wing back; Nemaja Matić is once again playing like a high-quality central midfielder; after a somewhat shaky start to life in London, N'Golo Kanté has been unleashed to terrorize opposing midfields the way he did with Leicester last season; César Azpilicueta has adapted perfectly to life as a center back; David Luiz has somehow avoided doing dumb shit regularly; and even Cesc Fàbregas has proven useful during his recent reintroduction into the team.
Nevertheless, the contributions of Costa and Hazard have been the most decisive during this first half of what very well might be a surprise title-winning campaign. At their best, these two are capable of turning would-be losses to draws and draws into wins. And when you get both of them in peak form, as Costa and Hazard have been in all year, there's no limit to what this team can achieve.