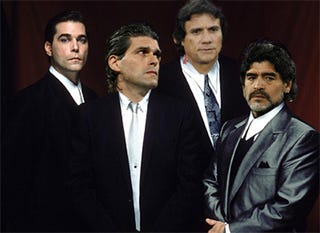 Some of you might have noticed that Diego Maradona never goes anywhere without a couple of nice gentleman who look like they run a casino when they're not attempting to scare other teams into losing football matches.
One of them in particular - the one with the slick hair - has the demeanour of a man who would kindly offer you for a lift home, then drive to the wrong house, shiv you in the neck, and bury you in the desert.
But don't be fooled by the whole Sopranos thing they've got happening, these men actually happen to have some footballing pedigree.
The aforementioned one with the hair happens to be Maradona's best pal, Alejandro Mancuso. He played for Argentina a handful of times in the early 1990s.
Whilst the other is Hector Enrique, who some might remember as the man who passed the ball to Maradona in the 1986 World Cup, before the dinky little magician sped off to score the Goal of the Century.
Maradona presumably considers him to be some kind of lucky charm.
Here's that bloody goal again…
This post, written by Josh Burt, is republished with permission from The Spoiler. Go there often if you like soccer stuff.