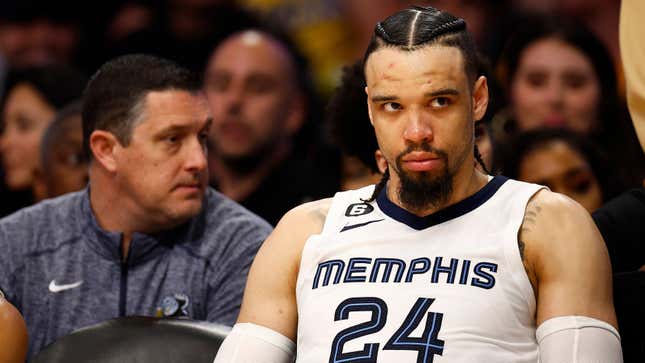 Making it to any professional sport and sticking around for a considerable amount of time requires a certain level of talent, dedication, and confidence in oneself. We often see players pump themselves up, making proclamations of being the best, although others don't view them in that same light. There's nothing wrong with this approach when competing at the highest level of sport. But there are fine lines that separate confident, cocky, and delusional. For some, Dillon Brooks is trampling all over those lines and plopping down on the side of delusion.

Hey Shannon Sharpe, the Memphis Grizzlies are the NBA's Kings of the Ring
"I know every single night, guys are thinking about me. It's in their mind before the game even starts," Brooks said during a recent interview.
Brooks built up a villainous persona during his time in Memphis. Some might call Brooks the modern-day, low-budget Dennis Rodman, minus the multi-colored hair, facial piercings, and All-World rebounding. Brooks has leaned all the way into wearing the black hat, playing the bad guy in the NBA over the past couple of years. His back and forth with the Golden State Warriors over the past two seasons is evidence of that.
Dillion Brooks thinks a lot of his skills
The former second-round pick out of Oregon has built quite the reputation for running his mouth. Brooks has become known for what he says off the court and the absurdity that leaves his lips more so than his play. But if you ask Brooks, he's the Freddy Kruger of the NBA stalking players in their dreams the night before games.
To Brooks' credit, he did make second-team NBA All-Defense last season. While some may disagree, that's a big honor. Now he's got to do it again so he can live up to the smack he talked all season. Making it once is great, but plenty of guys have done that in the association over the years. When you become a perennial All-Defense guy, folks start taking you seriously as one of the better defenders of your era.
That goes for players as well. Many of his opponents weren't feeling Brooks' attitude with the Grizzlies. He talked about it more often than he walked it in some players' opinions. Say what you want about LeBron James, but Brooks going at the King in the playoffs the way he did was lightweight and disrespectful. Then once Bron and Anthony Davis handed him that work, he skipped out on speaking to the media following that game. That's the point where you lose any respect you've gained.
But that's the generation we're dealing with now. When everything goes their way, you see 'em laughing, smiling, patting each other on the back, celebrating, and all that good stuff. The minute something doesn't go their way, you can't find many of them because they won't face the music when it's time to pay the piper. That's what Brooks did after his mouth got him in trouble. All that talking just to take an 'L' and then get dropped by Memphis.
Luckily, Brooks was able to bounce back and grab a big bag from the Houston Rockets worth $86 million (could reach $90 mill with incentives) over the next four years. It's not quite the $25 million per year he reportedly wanted, but it's close. Now he's got to go out and prove that he should've received that and help the Rockets climb back up to respectability. Although, it's not going to be quite the same in Houston as in Memphis the past few years. The Rockets finished the season tied with the San Antonio Spurs for the league's second-worst record. So, making more All-Defense teams better be on the agenda for Brooks because his days of winning 50+ games a year are over for a while.