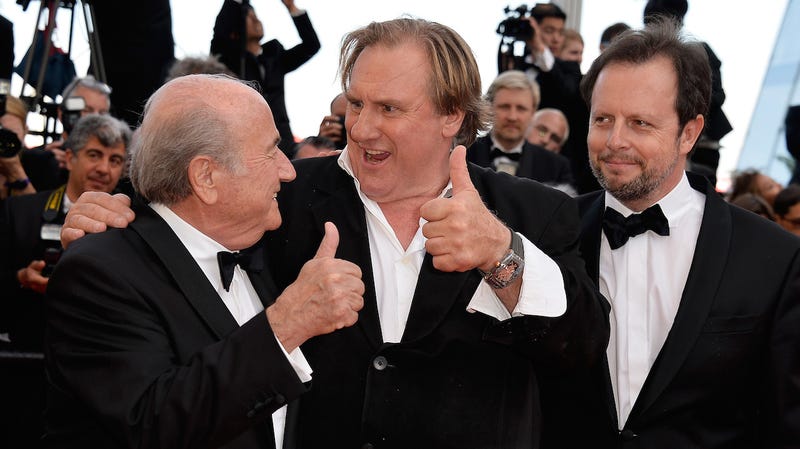 Frédéric Auburtin had the misfortune of directing the colossal flop that was United Passions, the movie about and paid for by FIFA. And while directing an awful movie itself can usually be brushed off pretty easily, the recent scandal has inflicted lasting scars on Auburtin's reputation, as he explains in a new interview with the Hollywood Reporter:
"Now I'm seen as bad as the guy who brought AIDS to Africa or the guy who caused the financial crisis. My name is all over [this mess]," the director laments, "and apparently I am a propaganda guy making films for corrupt people."
It wasn't supposed to be like this, necessarily. Auburtin claims that the original script was less the naked hagiography of what eventually ended up on screen and included subtle hints of the seedy underbelly that's been so prominently on display over the past few weeks:
Initially, Auburtin says he worked with Roth to "introduce a subtext" of corruption to the largely pro-FIFA script. That could explain some of the film's lines, including: "Blatter, he's apparently good at finding money."

Auburtin also points to the end of the film, in which Roth as Blatter is shown opening an envelope announcing South Africa as the host country for the 2010 World Cup. "You the audience should be clever enough to make your own conclusions [about how Blatter reacts]. We know now [FIFA] cheated because Morocco won the bidding, and apparently when Blatter opened the envelope, he changed it to South Africa."
But when the production began running over-budget and FIFA stepped in to double the coffers, the organization became much more involved. Auburtin recalls some of the alternate titles suggestions he received:
FIFA originally had wanted to call the movie Men of Legend. "Can you imagine such a title? It's nonsense," the director says. "Then The Dreammakers. Come on." Auburtin successfully fought for the United Passions title, an ironic play on the fact that FIFA has more member states than the United Nations. But after the final edit, FIFA made changes, he says. By the time of the film's debut at Cannes, it was "totally pro-FIFA," says Auburtin.
Auburtin kept quiet about the whole ordeal until now, attending the movie's Cannes Film Festival screening with the only actor who'd support the movie, Gerard Depardieu, but hasn't done any other publicity for it.
Tim Roth, who played Sepp Blatter, admitted that he only took the role to get himself out of a "financial hole," and has never supported it, saying "This is a role that will have my father turning in his grave." I imagine, alone in quiet moments, many involved with FIFA in real life feel the same way.