We're pretty staunchly against the year-round transfer gossip circus, since even at the best of times—when the transfer windows are actually open—there are about a thousand reasons never to trust what's being bandied about. But these rumblings about Manchester City sniffing around Arsenal's beloved, detested, iron-willed, lug-headed young midfielder and his club's insistence on warding away any suitors is too intriguing to just let pass without looking at the feasibility, if not the accuracy.
Like with most successful giants, City's current turmoil is more relative than fundamental. Which doesn't make it any less real, mind you, but does mean the best way to quiet the noise is through showy gestures that fulfill both structural needs and cosmetic ones. Firing manager Manuel Pellegrini would be one such move. (Though hopefully one they don't take, unless the club is more confident than I am that either Carlo Ancelotti or Pep Guardiola will be looking for new pastures this summer.) Another would be replacing declining Ivorian superstar Yaya Touré with a young, promising British one. Someone like Jack Wilshere, say.
PR-wise, nabbing Wilshere would be a coup for City. In many ways, he's the ideal of a modern English midfielder. He combines the lingering archetype of a stubborn attitude and a lust for barging tackles with the creative passing, dribbling, and attacking you need to thrive in today's game.
For years now, he's been hailed as the future captain of both Arsenal and the England national team, and despite being a fixture in EPL fans' minds for practically half a decade now, he's still only 23. (Put another way, he's 10 months older than everyone's favorite fresh-faced midfielder—and fellow potential Yaya successor—Paul Pogba.) Landing a player of this pedigree whose best years are ostensibly still ahead of him—something you can only say about maybe one or two players currently in the Mancunians' squad—and who's English to boot, would seem to assuage the biggest concerns among the fans.
But from Arsenal's point of view, this appears to be exactly the kind of transfer they can least afford. During the long years of austerity when they were selling star after star to their EPL rivals—very often to City themselves—the one thing the board could promise the Gooner faithful was a brighter, wealthier future. Once all the apartments and hotels and restaurants and shopping centers around the Emirates Stadium were finished, the story went, the club would rake in enough revenue to compete with any club in the world for players. Robin van Persie's exit was the line in the sand, meant to be the last of the high-profile exits before Arsenal took their rightful place as true competitors to City, United, and Chelsea.
This has mostly been the case. The Gunners haven't lost anyone of any true importance since van Persie's departure three seasons ago and have brought in players like Mesut Özil and Alexis Sánchez—players that came from and were coveted by the biggest clubs in the world. They've also been seriously in on the likes of Gonzalo Higuaín and Luis Suárez, players of a quality they'd never been mentioned with before.
G/O Media may get a commission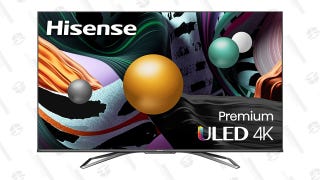 Save $350
Hisense ULED 65" Android 4K HDR Smart TV
In a way, then, it makes sense when Arsène Wenger treats whispers about one of his prized players like threats against the lives of his children. Responding to Manchester City's interest in Wilshere, the manager declared that Arsenal's not in that business anymore.
"You can imagine my answer," he scoffed. "A player becomes a player at 23 or 24, so if you have to sell them at 23 or 24 you feel you work for the other clubs.

"We are not in a position any more where we have to sell our best players. When we had the period of restricted finances we had to sell the players when they started to perform, from 18 to 23. But not now."
But should he really try to stop this? As impressive as his highlight reels are, Wilshere tantalizes and frustrates in equal measure. And not just with the mostly dumb gossip-page "scandals," like the umpteenth time he gets caught smoking something after swearing off all recreational-substance inhalation, "for real, no seriously this time, you guys."
What Wilshere does well is attack. No one could argue that doesn't have a keen eye for that one pass to cut through the defense in the final third, nor the soft feet to execute them with a single touch in the most constricted of spaces, nor the energy to storm forward while also rushing back to defend when attacks don't come off. But in practically every other phase of the game, he leaves much to be desired.
While he does commit himself with admirable intensity on defense, he isn't all that good at actually winning the ball back. He's as likely to shove a ball carrier in a fit of pique or stomp his way into a card or an injury cart as he is to make a well-timed tackle. He isn't very disciplined positionally or dispositionally, is always injured, and needs to be surrounded by teammates with very specific skill sets to do what he's best at. Wilshere is still young, but it's unclear whether he's a work in progress still cresting towards becoming a complete player, or if he's already realized his true form and will continue alternately wowing and angering fans when his ankles are healthy enough to get him on the pitch.
Wenger would do well to consider how he fits with the team they have—or rather, how he doesn't. Wilshere is probably best served as one of the two more advanced central midfielders in a 4-3-3 or in the number 10 position in a 4-2-3-1. The former formation doesn't play to the strengths of Arsenal's players and in the latter, the team already has better options at any position he could fill.
The presence of Sánchez and Özil and the desire to get the best out of them restricts what Arsenal can do, formation-wise. Alexis is best playing on the wide left, Özil most damaging when allowed to float around as the central attacking midfielder. Thus, the club's best formation is a 4-2-3-1. To get on the pitch with Özil when the German is playing as the number 10, Wilshere has to be fielded as one of the deeper central mids. It's a role he can fulfill pretty decently, though it doesn't come naturally to him because of his aforementioned defensive shortcomings. To compensate for his forward runs, he would need to be accompanied by a pure destroyer like Francis Coquelin or Mathieu Flamini.
However, Wilshere still isn't Arsenal's best option as a playmaking deep midfielder alongside a destroyer; Aaron Ramsey claims that distinction. And outside of when the squad is facing the worst of the worst in knockout cups, no Arsenal fan with even a passing concern for their own blood pressure wants to see Ramsey and Wilshere tasked with shielding the defense. Oh, then there's the matter of Santi Cazorla, who can play practically any position on the pitch better than almost any of his teammates, and as long as he's on the roster, Wenger is rightfully going to try to put him on the field as much as possible.
What about the 4-3-3? A tandem of Ramsey and Wilshere just ahead of, say, Coquelin works fine on paper, and Özil is capable of playing on the right wing. But in practice, this tends to gum up the center of the pitch with two inverted wingers who want to cut inside, plus a couple central mids who also want to hover around the top of the box. It threatens to leave the actual defensive-minded players out to dry, seeing that two of the midfielders will often be caught up near the box and Özil would rather hang out with his old teammate Christian Lell than track the run of an opposing full back.
All of this is to say that if things go well for Arsenal, Jack Wilshere doesn't really project as a key member of the squad of the near future. In a completely healthy side (I know, I know, just go with it), in their best formation, Wilshere is a rotation option for Ramsey or Özil. Despite the rep, Ramsey is actually fairly healthy (for an Arsenal midfielder) each year, and the club has the likes of Cazorla, Tomáš Rosický, Alex Oxlade-Chamberlain, and approximately 63 other creatively-inclined central midfielders in the youth ranks to spell those two starters. What the team is most in need of is a long-awaited upgrade in defensive midfield, someone who's both a better defender than Flamini and Mikel Arteta and a better passer than Coquelin. The deal for Southampton stud Morgan Schneiderlin still seems like it has a good chance of going through this summer, which would immediately improve the side and force Wilshere a little further down the pecking order.
So why wouldn't Wenger want to sell off an asset that's more valuable to some else, at what is almost certain to be an inflated fee? (City have to know they'd be forced pay a little more for Wilshere than he's actually worth, being that he's both English and from a direct rival.) Wenger might still trust that the boy he's placed so much faith in since he was a teen will eventually develop into the generational player his first season promised. He might also view Wilshere as a useful bench option, one that's pretty easy to get playing time when you factor in the three months he'll be out injured and the inevitable injuries to his teammates. And there's still that ugly "selling club" perception Wenger has worn for so long like an itchy sweater and has been so eager to cast off. There are legitimate reasons for Arsenal to stand pat on Wilshere.
Of course, Wenger is nothing but pragmatic. If he were planning to move Wilshere, this is exactly how he'd go about it: say all the right things now, show the fans and Wilshere himself that the manager still believes in the homegrown player's potential, while covertly signaling the bosses over in Manchester that Arsenal aren't about to just give him up without some serious cash. Then, when summer rolls around, negotiate a transfer fee for about £30 million or so, bring in Schneiderlin and maybe another deep-lying playmaker, and watch as everyone forgets about the Boy Who Never Was while their mouths water at the prospects of the title contender that is.