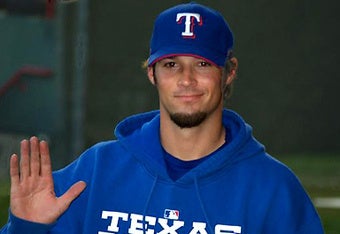 Texas Rangers reliever C.J. Wilson was at the ESPYs for some reason, but since he wasn't nominated for anything (one would assume) he decided to spend the evening busting horny dudes with his Twitter—including a certain noted sportscaster-lothario.
His last update from the ceremony:
I've seen 30 different dudes try flirting with the trophy girls, making trophy wives? hahaha
Come on, guy! Flirting with award show trophy girls is the only moment of fun most of these fellas get in a year. (Besides playing children's games for million-dollar salaries, of course.) Why do you gotta call them out on interweb blog sites? That's not being very "bro-like." But one guest in particular received special attention from Wilson.
Those messages were later deleted from Wilson's feed, but helpfully preserved by this website that refuses to let your most embarrassing online moments die a noble death. If you can't even make small talk with a statuesque statue holder without getting called on it, then what's the point of being a superstar?
C.J. Wilson (str8edgeracer) [Twitter]
Chris Berman Finds New Leather, C.J. Wilson Tweets It [Walkoff Walk]