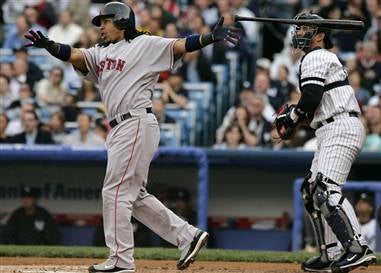 Notes on a day in baseball:
• My Name Is Manny And I'm A Soxaholic. We like watching the Yankees, with their ponderous, back and forth meanderings in the AL East. Sometimes we have the urge to feed them peanuts. They're back to 10 1/2 games behind the division-leading Red Sox today after a 7-3 loss to Boston, as Manny Ramirez hit a three-run homer in the first inning to lead the Sox attack. Julian Tavarez won on his 34th birthday and Mike Mussina took the loss. And now Curt Schilling takes the mound for the Red Sox in the deciding game tonight, against Mr. Andy Pettitte. New York has lost eight of its past 12. Could the Joe Torre Death Watch be back on? And now here's Boston second baseman Dustin Pedroia on Alex Rodriguez's sliding habits: "He went in late and threw an elbow, but it's no big deal. I know now that when he's going in, my arm slot drops to the floor. Some people play like that, and some people come in with hard, clean slides."
• He's Back, Suckers. Johan Santana and Justin Morneau: They're cops! Get in here, Santana and Morneau! Do you know how much damage you caused with your little stunt last night? If you don't start playing by the rules, I'll have your badges! Santana struck out a season-high 13 over seven innings, and Morneau homered twice to lead the Twins past the Rangers 7-1. Sosa hit No. 598, if you care. We sure do!
• Let's Hear It For F-Lope. Felipe Lopez loves the Great American Ballpark. Well heck, who doesn't? Lopez, who hit 23 homers as a Red in 2006, returned on Tuesday as a National and had a grand slam, leading Washington to an 8-4 win over Cincinnati. That Gary Majewski deal just keeps getting better, doesn't it? Oh, Ken Griffey Jr. homer No. 573, if you care. We sincerely do!
• Another Giants Post! We win something, right? From what we understand, Giants rookie pitcher Tim Lincecum was allowed to choose the clubhouse pregame music (Radio Disney rules!), then went out and struck out four over eight strong innings in San Francisco's 4-2 win over the Astros.
• ... And You Don't Mess Around With Jim. There's nothing like hitting a three-run homer and then getting a big sweaty hug from John Danks. Jim Thome, you lucky bastard. White Sox 10, Athletics 4.