Last year was a fun one for the Miami Marlins, until it really, really wasn't. José Fernández's death may not actually cast a pall over the Marlins' entire 2017 season, but it certainly feels that way now. It will definitely feel that way whenever I have to watch Dan Straily pitch.

With that tragedy consuming all of the world's appetite for news about the Marlins, it can be easy to forget that for the bulk of last year, Miami was at or near the top of the Wild Card race. They tailed off towards the end, but for much of last season the Marlins ran out a fairly exciting, fairly young, and fairly good team that played really good defense and had a little pop.
That team is still around, just minus one.
What guys should you know?
You know Giancarlo Stanton, obviously, and you probably consume him in the correct fashion, checking in on highlights when he happens to hit a ball to Neptune. But watching Stanton every day can be not all that fun. There is always the chance that he will hit the longest home run you've ever seen in your life, but he also has long spells where it looks like the Marlins put John Cena in their starting lineup as a publicity stunt. Last summer, he struck out 17 times in 21 at-bats, which was deeply exasperating even within the context of what the Marlins normally put their fans through. That said, after an offseason spent criss-crossing the world in the wake of Fernández's death, people around the Marlins are using words like "MVP" and "on a mission" to describe the big man. So maybe this is the year.
G/O Media may get a commission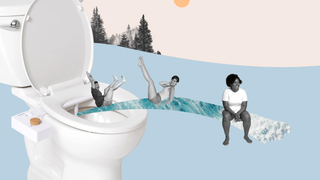 17% off
Tushy 3.0 Warm Water Spa Bidet Attachment
On the opposite end of the spectrum is Christian Yelich, who has one of the best batting eyes I've ever seen. His at-bats are soothing. Watching Yelich take a pitch that misses the strike zone by half an inch is one of my favorite ways to de-stress. If you're having a hard time at work, I recommend turning on a Marlins game simply to watch Yelich work a count to 3-2 before smoking a line drive into the outfield.
The Marlins have some other fun players beyond those two, though. Dee Gordon was suspended for half of last season, and was largely terrible for the other half. He also swings at basically every pitch thrown to him for reasons not yet known. But when he does make contact, especially if he manages to drive a ball into a gap, there are few things in baseball as primally thrilling as watching him fly around the bases. Last year I was at a game—on Opening Day—where he hit two doubles and a triple, and I left thinking the Marlins had the most exciting player in baseball. Then he hit .268 the rest of the year.
His double-player partner, Adeiny Hechavarria, is an utterly grotesque hitter. Earlier this week, this very website asked at what age Barry Bonds would be the worst hitter in baseball, noting that, last season, Hechavarria had the worst OPS in baseball among qualified hitters at .594. I've personally never in my life seen Adeiny get a hit and that still seems impossibly low. Nonetheless, he manages to routinely conjure magic at shortstop, snatching line drives out of the air, often barely even moving, like a bullfrog snacking on flies.
With no José, the Marlins' rotation features strictly guys who, if you were to show up at a game without knowing who was starting that night, would make you go, "Oh, him?" I suggest not watching the Marlins until the eighth inning, when they will often bring in Kyle Barraclough, who last year ranked fourth in baseball in strikeout percentage (37 percent) and third in strikeouts per nine innings (14.0). His command comes and goes, but last year his fastball averaged 95.5 mph and his slider is generally untouchable. A joy to watch.
Those are pretty much the only guys to watch. Do not watch Martín Prado.
One GIF of a Marlins fan
Honestly? It never gets old.
This kid must be getting close to absolutely fucking up some Bar Mitzvahs.
Can they beat the Cardinals?
Last year, the Marlins went 4-3 in seven games against the red-assed Redbirds. Definitive proof that the flopping fish boys can beat the Cardinals, and will do it again.
Who has the best baseball chin?
Normally, this particular fascination of the depraved Deadspin hivemind asks you to stare at some chin that looks like it's covered in butt hair. Instead I've chosen to highlight Marcell Ozuna's pleasing chin, which is perfectly framed by a well-manicured beard. This is the ASMR of baseball chins.

So are they going to be good?
Look—probably not. But if the Marlins manage to stay healthy they have a quality starting nine, a professional rotation, and a well-stocked bullpen. A run at the Wild Card is not out of the question, and a division title is off in the extreme distance if the land mines implanted in the arms of each Mets pitcher all detonate at once (not impossible), and if the Nats choke like the choking chokers they are. But realistically the Marlins will probably win somewhere between 0 and 81 games.
Why should you root for the Marlins?
Please don't root for the Marlins. If Jeffery Loria catches wind of people caring about this team, he might not sell it.