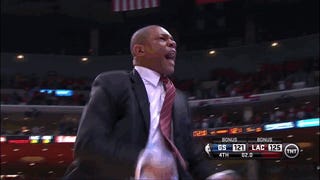 The Clippers beat the Golden State Warriors 126-121 in Game 7 on their home court despite 33 points from Steph Curry, 14 of which came in the fourth quarter.
Doc Rivers was incredibly emotional and in the final moments, once Darren Collison made it a two-possession game, he was firing up the crowd, slapping hands and pumping his fists. TNT's cameras later showed him crying.
Blake Griffin and Chris Paul finished the game with 24 and 22 points, respectively, and though it's usually a dunk with Blake, we're going to feature a Griffin layup. It came late in the fourth and gave the Clippers a two-possession game and it was a rumbling and tumbling sequence.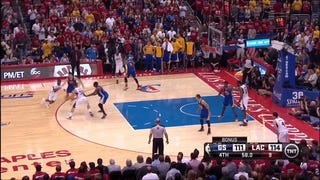 So the Clippers advance and the Warriors head home, with the possibility that Mark Jackson has coached his final game for Golden State.
[TNT]