The NHL Closer is written by Greg Wyshynski, of FanHouse and The Fourth Period. He is also the author of Glow Pucks And 10-Cent Beer.
Today is like Christmas morning for hockey fans, if Christmas consisted of watching other people exchange gifts and then pointing and laughing when one of them gets a Wii and the other gets a box of rabbit shit. It's NHL Trade Deadline Day: The thrilling climax to weeks of baseless innuendo, fanboy flights of fancy and deep conciliatory sighs from Brad Richards. We're all on call today: This Closer will serve as an open thread for breaking news, trade analysis, liberal applications of snark and unlimited Mike Milbury references. Stay classy, San Diego...
As of this morning, Ross McKeon on Yahoo! Sports reported that Tampa's Richards is going to Dallas in a multi-player deal that includes goalie Mike Smith, and that Marian Hossa will be of Montreal by this afternoon. If these rumors are true, good for the Habs ... but for the life of me, I can't figure out where Richards fits on the Stars. He's like the Kurt Warner of the NHL: He needs superb offensive talent on his line to activate his game, or else he's just a guy bagging groceries. There isn't a Hull to his Oates on that roster - you'd figure their general manager/ambassador of fun would realize that. But that's the trade deadline for you: Logic has no home here. Witness Kevin Lowe last season dumping Ryan Smyth to the Islanders and then claiming it was "a hockey decision" rather than a financial one. Dumbass.
Head down to the comments and post what you hear, what you read and what you think about this silly little hockey nerd celebration. And I'll do the same throughout the day.
G/O Media may get a commission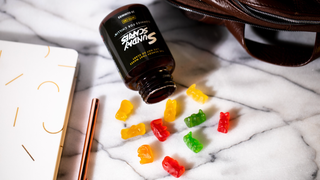 10mg CBD Gummies (22-Count)
One Swedish Swedish Enlarger. Like I said during the summer when they landed Scott Hannan and Ryan Smyth: Doesn't it feel good to give a shit about the Colorado Avalanche enough to loathe them again? Yesterday's return of Peter Forsberg solidifies Colorado as second only to the Ducks as the West's predominant hate magnet. You've got to hand it to the Avs: They managed to land Rent-a-Floppa without committing to a second contract year for The Porcelain Messiah. But this sudden reversal from Forsberg's agent telling the NHL that his injured client wouldn't return, to Forsberg being all "fuck that shit, I'm going to Denver" is sort of strange. As my good Closer buddies the KB opined: "So that was either a lie, or, a chronic injury has dramatically improved in a matter of a week, or Forsberg is on the verge of a devastating Oxycontin addiction."
In other words, this move will either propel the Avalanche into the Campbell Conference elite, or it'll be the biggest error in judgment Colorado's seen since Kobe extended his invitation to that hotel clerk. Well, at least the bars in Denver will get an economic boost:
Don't Bury Me...I'm Not Dead. We don't give enough credit to Flyers fans. Obviously, when they were booing Danny Briere over the last few games, it was to toughen him up for the jeers from the Buffalo faithful last night. And what does that little punk do? Scores in the shootout to break Philly's 10-game losing streak on Brian Campbell Night in Buffalo. Then the Flyers pick Vinny Prospal from Tampa Bay's carcass, as he returns to the city where he got his start as an inconsistent enigma. Oh, and Toronto pistol-whipped Ottawa, 5-0, to close within six points of the final playoff spot. Sundin had the game-winner. Meh, he's still a traitor.
Puck Headlines
* A minor league hockey coach politely disagrees with a referee's call by tossing his clipboard on the ice...followed by a Gatorade jug and a slew of lumber. In the span of 10 seconds, this guy threw more sticks than Tommy Lee did in 20 years with the Crüe. [The FanHouse]
* Hockey people who look like fictional movie characters. OK, Wilford Brimley is actually real. As real as the dangers of undiagnosed diabeetis. Or someone sticking his dick in your oatmeal. [NHL Digest]
* A Montreal watering hole's hockey and booze tradition that should be adopted by every sports bar in North America, stat. [Verbatim]
* Police officers, firefighters and paramedics break up a midget hockey brawl. A defiant Brian Gionta is seen dragged away, screaming "YOU'LL NEVER TAKE ME ALIVE!" [National Post]
* Finally, this gets my vote for the most ingenious viral marketing for Leitch's book I've ever seen (h/t Melrose Rocks):