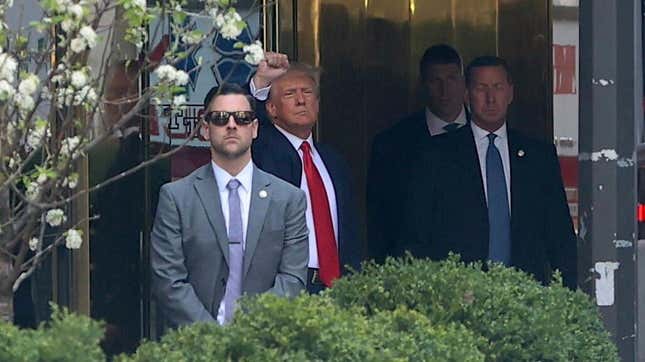 In 1968, John Carlos and Tommie Smith risked it all at the Summer Olympic Games in Mexico City as they stood on the podium with their fists raised high. On Tuesday, a twice-impeached former President who has been harassing and harming Black people for decades from the Central Park/Exonerated Five to questioning President Barack Obama's heritage to calling Colin Kaepernick and Black NFL players who kneeled "sons of bitches," to almost igniting a race war on Jan. 6, hypocritically raised and pumped his fist — and waved — in front of cameras as headed to be arraigned for the 34 felony counts he's been indicted on. (Trump pleaded not guilty to all counts.)
An American Pastime: Booing politicians at sporting events
Here's a clip if you missed it.
 According to the Associated Press, it went like this in the courtroom:
"The defendant, Donald J. Trump, falsified New York business records in order to conceal an illegal conspiracy to undermine the integrity of the 2016 presidential election and other violations of election laws," said Assistant District Attorney Christopher Conroy."
Trump, somber and silent as he entered and exited the Manhattan courtroom, said "not guilty" in a firm voice while facing a judge who warned him to refrain from rhetoric that could inflame or cause civil unrest. All told, the ever-verbose Trump, who for weeks before Tuesday's arraignment had assailed the case against him as political persecution, uttered only 10 words in the courtroom. He appeared to glare for a period at Manhattan District Attorney Alvin Bragg, the prosecutor who brought the case.
Never forget 
Never forget that two years ago, the International Olympic Committee (IOC) banned kneeling and the raising of fists at the Tokyo Olympics. A man that said he likes to "grab 'em by the pussy," and who has over 25 sexual misconduct allegations against him — the former POTUS denies the allegations and has called the accusers liars — had the audacity to raise his fist in the air, mimicking that act of two Black pioneers that forever changed sports and culture. This is America.