It's buyer's remorse day here at Who's Sorry Now, as Billy Donovan and David Beckham each ask the musical question: What exactly is the cooling off period for switching high-profile sports jobs? In Donovan's case, on Friday he decided to leave the Florida Gators to take the Orlando Magic job, then took stock of his decision over the weekend and woke up on Sunday screaming "NOOOOO!"
To which the Magic responded; fine. Be that way.
The Orlando Magic today will allow Billy Donovan out of his 5-year, $27.5 million contract that he signed on Friday. "It's over," said a source close to the situation. Donovan had reservations about leaving the Florida Gators for the NBA on Friday and spent all weekend trying to find a way to get out of his contract. On Saturday, Orlando Magic General Manager Otis Smith went to Gainesville to try to convince Donovan to honor the deal. Smith talked with Donovan again on Sunday, and so did Magic President Bob Vander Weide. Unless Donovan wakes up today and changes his mind, the Magic will let him go, the source said.
Meanwhile, there was further terrible regret, this time in the world of soccer, as David Beckham carefully examined his new Los Angeles Galaxy contract and discovered a glaring mistake ... that he's playing for the Los Angeles Galaxy.
David Beckham is having second thoughts about ending his playing career in the footballing backwater of the United States. The former England captain, 32, signed a five-year contract worth £125 million with LA Galaxy in January after being sidelined by Real Madrid as well as Steve McClaren's England. But while Beckham insists that his US move will not harm his chances of continuing his international comeback, his return and the reception he received from the 90,000-strong crowd at the new Wembley Stadium on Friday night have made him reconsider his desire to continue playing club football at a high level.
G/O Media may get a commission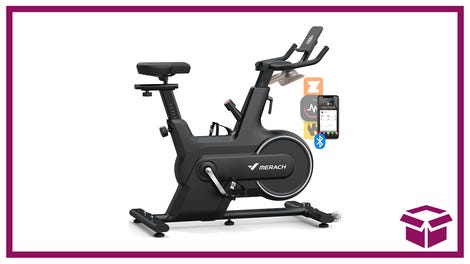 14% off + Coupon
Merach Indoor Cycling Bike
This will probably happen every time that the Tom Cruise Scientology brainwashing has a chance to begin to wear off.
Elsewhere in bitter regret:
• "Sorry for being so physical, and also for shooting Sonny on the causeway." — Phil Pronger
• "Sorry for blinding you with the pink." — Danilo Di Luca
• "Sorry for all the blow." — Milan goalkeeper Nicholas Caglioni
Orlando Magic Will Allow Billy Donovan To Return To Florida [Orlando Sentinel]
Sources: Donovan Wants Out Of Magic Deal [Fox Sports]
Beckham Fears He Has Made A Huge Mistake With Galaxy Deal [This Is London]