In sports, everyone is a winner—some people just win better than others. Like Redskins quarterback (wow) Donovan McNabb, who stole a busy weekend show when he suddenly turned the tables on Philadelphia and became Bizarro Brett Favre.
Jokic? Embiid? The NBA MVP is obvious... right? | Keep it a Buck(et)
An aging, underachieving quarterback near the end of his contract life. An impatient front office with a youngster that they believe to be their future. The veteran forced out of town, to a division rival that might be one player away from suddenly becoming a serious threat. The only difference is that in this scenario, the oft-maligned veteran becomes the sympathetic hero. Instead of praying for a spectacular interception-filled flameout, most non-committed NFL fans will be begging for Donovan McNabb to DESTROY the Eagles next season. Even if that means not being able to laugh at the Redskins.
If there's one virtue sports fans mistakenly prize above all others, it's loyalty. Where Brett Favre personified the heartless mercenary player, McNabb now becomes his antithesis—the faithful hero spurned by heartless corporate masters. McNabb has never been an easy guy to rally behind—nor is Washington an easy team to love—but now that's he's been "wronged," you won't find a better feel good story next season that doesn't involve Drew Brees and a pediatric cancer ward.
The best part of all is that we may finally learn the answer to a question that's been bugging football fans for a decade: Who is really to blame for the Eagles' pathetic string of postseason failures? Is Andy Reid a secret genius routinely done in by his easily confused quarterback? Or could Donovan McNabb become John Elway if only the sideline signals weren't sent to him in Esperanto? In addition to sympathy, he's also got a rested and ready Mike Shanahan, a tri-headed backfield smoke monster, and Dan Snyder's wallet on his side. The Eagles have ... Kevin Kolb?
G/O Media may get a commission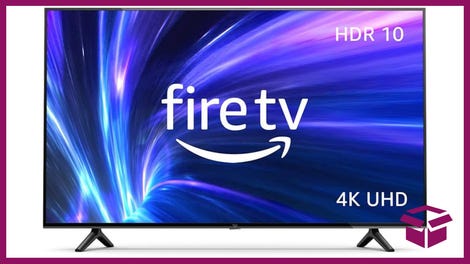 42% Off
Amazon Fire TV 50" 4K Smart TV
Seriously? That's who you want to throw away a lifetime of goodwill and simultaneously empower a division rival for? Good luck with all that.
Honorable Mention: At least Jason Campbell can't get blamed for anything this time around. Unless the Skins end up with a lot of missing clipboards.
[Photo: AP]