Red alert: The sniping between Philly's Ben Simmons and Utah's Donovan Mitchell over who should be the NBA Rookie of the Year has reached "Custom Hoodie" status.

Simmons has the numbers, and is almost certainly going to win the award. (Mitchell, more of a pure scorer, has got a decent argument too, mostly revolving around the Jazz, not expected to compete this year, currently being in the driver's seat for the three seed.) But Simmons was drafted way back in 2016, though he didn't play at all that season due to injury. In the NBA's eyes, he's still a rookie. In Mitchell's not so much.
The two have been escalating their fundamentally good-natured public beef in recent days, and when Simmons was asked in an interview two days ago if any other rookies have impressed him this season, he immediately answered, "none."
To that, Mitchell quickly dropped a subtweet.
G/O Media may get a commission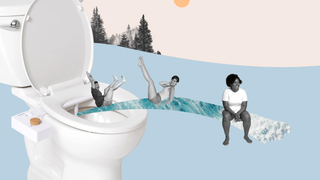 17% off
Tushy 3.0 Warm Water Spa Bidet Attachment
Last night, before Utah's blowout win over Golden State, paced by Mitchell's team-high 22 points and his putting Draymond Green on his ass, the undisputed rookie entered the building wearing a hoodie printed with the dictionary definition of "rookie."
Mitchell isn't mad. In fact, he finds this funny.
Simmons: not having it.
One potential hitch in Mitchell's displayed definition was pointed out by a certain online dictionary, and it's valid.
This is ultimately the issue, isn't it? Yes, Simmons had an extra year to watch, and to learn, and to train, and to prepare. But how much value does that have without actually playing against NBA competition? I don't know the answer, but I bet it's "some."

"Coming off a broken foot is definitely not an edge," Simmons said on Monday. But after last night's game, Mitchell expounded upon his rookie truthering.
"I'll put it in perspective for people who obviously don't play in the NBA and don't know the life of the NBA. So, let's say you have an exam to take on June 1 and you have a whole year to study for that exam, you're going to get a pretty good grade on it, aren't you? But some people may not have all that time to prepare for that exam."
Let me number my truths:
Mitchell has a point, and Simmons has a moderate advantage.

Simmons is going to win the award, and should.

This is fun! I hope Simmons and Mitchell are actually enjoying themselves and aren't legitimately mad. I just want everybody to have a good time.

Andre Ingram is the true Rookie of the Year.