Edmonton Oilers center Connor McDavid missed a couple of months last season when he slid into the boards with Philadelphia Flyers defenseman Brandon Manning in a Nov. 3, 2015 game, and broke his clavicle. At the time, McDavid didn't blame Manning for the injury, but in last night's game, the Oilers captain was less charitable to his opponent.
Jokic? Embiid? The NBA MVP is obvious... right? | Keep it a Buck(et)
Early on, McDavid and Manning found each other, talked trash, and traded shoves:
I'm not a professional lip reader, but it looked like McDavid said, "Fuck you, you fucking bitch," to Manning after scoring Edmonton's second goal of the game.
After the 6-5 Flyers victory, McDavid said that during the game, Manning talking about intentionally hurting him. He called the defenseman's comments "classless."
G/O Media may get a commission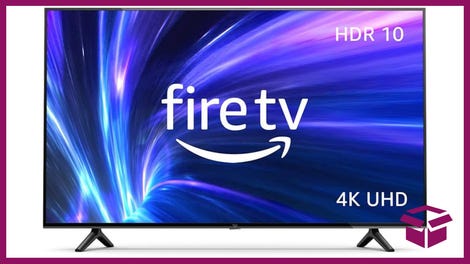 42% Off
Amazon Fire TV 50" 4K Smart TV
"I did all I could defending [Manning] last year in the media," McDavid said. "I wouldn't want to make a big deal saying he did it on purpose, and he wanted to say some comments today about what went on last year, and, you know, I thought it was one of the classless things I've ever seen on the ice. He said some things, and our guys responded accordingly, and I guess we can put the whole 'If he did it on purpose' thing to rest, because what he said out there kinda confirmed that."
Manning defended himself, denied that he had injured McDavid on purpose, and criticized McDavid for trying to start a fight during the game. From Sam Carchidi of the Philadelphia Inquirer:
"That's 100 percent wrong," he said. "Anyone who has seen the clip, sees him catch an edge. I would never intentionally hurt someone....When he comes out and says that's the most classless thing....and for him to come out in the second period and yell at our bench for a minute and tell me to get on the ice. Or for him to score a goal and start chirping at me, you should see where his focus is right there."
The Flyers and Oilers play again on Feb. 16. The beef between McDavid and Manning will likely maintain its spice and heat until then.
H/t to Adam