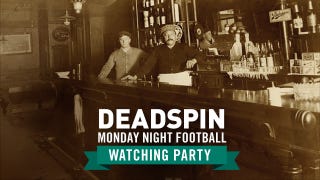 A.J. had put out the invite on Friday, so consider this your reminder to come meet up if you're in New York and you'd like to watch tonight's Bears-Lions game with a few Deadspinners and a handful of others from the Gawker gang.
Here are the particulars:
The Place: Upstairs at Professor Thom's, 219 2nd Avenue, NYC, between 13th and 14th
The Time: 7:30 until the game ends
Just say you're there for the Deadspin thing and head upstairs. And don't forget to bring money because it's a cash bar and not some opportunity to freeload your way through Monday Night Football. Got it? Good. Hope to see you there.