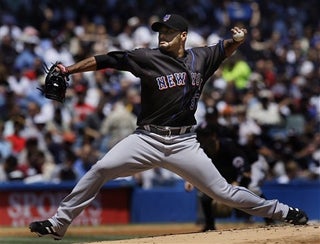 Johan Santana wasn't exactly perfect, but he gave the Mets enough to top the Yankees in the Subway Series. The Mets ace, who could have been a Yankee for the right price, surrendered three home runs but he improved to 5-2 on the season thanks to his teammates. Billy Wagner took the cellphone out of his ear long enough to earn retire four Yankees and earn his ninth save of the season. Jose Reyes and David Wright both homered off of New York's pastry chef/reliever Kyle Farnsworth, but the loss went to Andy Pettitte.
• That's more like it. Ervin Santana was finally touched up for his first loss of the season. Russell Martin provided three of the Dodgers eight hits and Blake Dewitt drove in two runs to propel them to the 6-3 victory. Chan Ho Park, Hong-Chin Kuo, and Takashi Saito kept the Angels lineup in check, with Kuo ultimately earning the win. Juoan Pierre went 0-4 because he isn't a very good baseball player.
• The Rays are not unbeatable. Ryan Ludwick parked Dan Wheeler's 10th inning offering to give the Cardinals a 9-8 win over the mighty Rays of Tampa Bay. BJ Upton made a valiant attempt to keep the ball in the park, but the wind was strong enough to carry the it out of his reach. Ryan Franklin picked up the win in two relief innings after somebody not named Isringhausen blew the save.