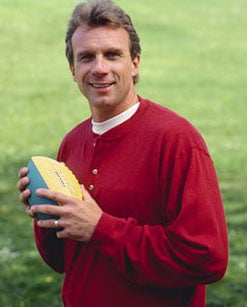 The legendary Joe Montana has to be a little antsy this weekend. The 49ers don't get an early first round draft pick. He's got people covering his shift at his diner. And if Tom Brady wins a fourth Super Bowl ring and third Super Bowl MVP, it'll tie Joe Cool on both counts.
There's only one solid way to relax: attend the Madden Bowl party in Scottsdale, Arizona. One caveat: NO FLASH PHOTOGRAPHY! A clearly shaken photographer tells the story:
I took three photos of Montana for my Madden Bowl recap story. I then turned away to check my work, surprised to find the football icon missing from the last photo.

It only took a second to realize where he'd gone. Montana was behind me, bumping into me to get my attention. Startled, I turned to see a stone-faced Joe who looked at me with disdain before asking, "Do you have a fucking problem?" I politely shook my head, and said I didn't know that I wasn't allowed to take pictures of him.
A security guard to break up the confrontation.
But this rather quite surprising. A party with Dennis Rodman and Chris Berman in attendance, and Montana's the one who takes the anti-camera stance.
Joe Montana Gets Up In Our Grill [GameDaily]