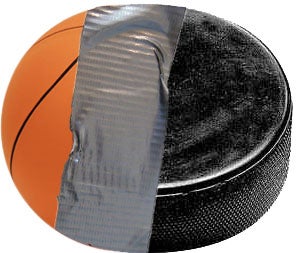 Due to budgetary setbacks, today's NHL Closer and ... um, whatever the hell we were calling the college basketball thing will share a post. We apologize for the inconvenience, and we fought this thing as far as we could before we thought a Photoshop of a basketball and a hockey puck would look really, really awesome. That was, of course, before we actually made it. So here we are. No going back.
Six of the 11 hockey games last night went to overtime, and three of those needed a shootout. I know there are some purists out there who feel that a one-on-one shootout isn't the proper way to resolve a game. After all, it's a team game. So here's my proposal of a proper shootout: instead of one man skating toward the goal, have five players surround the goalie à la a firing squad and shoot toward the net simultaneously. Fun for all ages! Team play! There's no downside to this.
The People's Palace — Michigan State moves to 11-1½ after an "upset" of previously unbeaten Texas, 78-72. Later, Oakland University, who has a pretty good curling team, upset the 21st ranked Oregon Ducks, 68-62. What I'm gathering here is that Michigan teams who play out-of-state opponents in the Palace of Auburn Hills will always win by six points, no matter what. Quick, Eastern Michigan. See if you can get a do-over on that loss at Notre Dame.
Everywhere's Home To Somebody — Long after I was done Saturday, I continued the internal debate on the legitimacy of the phrase "home-and-home" and still reached no resolution. It raged well into the night, long after the Sabres swept the home-N-home with the Flyers on a 6-5 shootout victory. Thomas Vanek redirected Jochen Hecht's shot into the goal with less than 10 seconds on the clock to force overtime and go on to ... I'm sorry. Home-and-away. It's the only sensible label for this.
I Keep Thinking This Is An SEC Game — Ole Miss is so rebellious, they started the season with 10 games, the easiest among them being a home game against Winthrop. Clemson's 10-0 start was a little better, not only for the obvious reason that they were ranked, but they also played actual teams with agile male athletes and not pregnant mothers riding mules. So you'd think Clemson would have no problem with Mississippi in Puerto Rico. Wrong, brother. Ole Miss edged the Tigers 85-82.