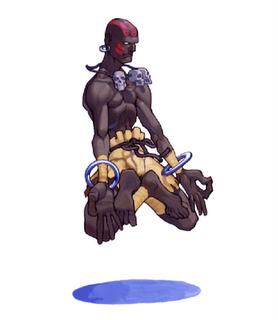 Because National Public Radio is into recherche subjects like competitive yoga, one of their correspondents filed a story from a yoga dojo (yeah, I know that's not the right term, they're actually yoga studios *sniffs own fart* but that's froufrou) in Oregon that is at the leading edge of competitive yoga, which hopes to become an Olympic sport by 2020. Shine on, you crazy diamonds.
Some things we learned:
In competitive yoga, practitioners enter a silent hall and perform seven poses in three minutes.
Yoga poses are called asanas. Kind of sounds like ass. Okay, I'm listening.
We did not learn how this can be judged in a competitive manner. There are no quanitative measures, like, say, boob punching. Advantage: boob punching.
Somewhere, there is yoga that is not "restrained".
Suzanne Cummings, who runs a bikram yoga su-su-sudio in northwest Portland, was skeptical at first but said the competitive version is "everything yoga is meant to be".
Yoga is apparently meant to be stupid.
No one is good with Dhalsim in Street Fighter. Nobody. Anyone who says otherwise is a fucking liar.
YOGA DOESN'T GIVE YOU ENLIGHTENMENT, FAUX-HIP MIDDLE AGED MOTHER OF FOUR. QUIT SPENDING YOUR KID'S COLLEGE FUND ON CLASSES!